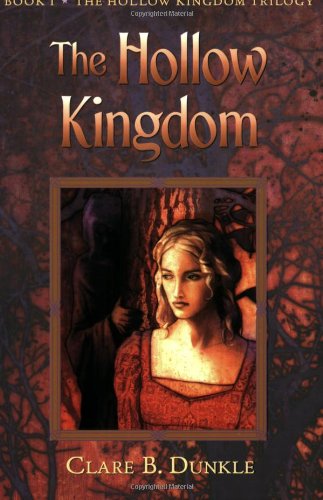 Publisher's Note:
Clare Dunkle's acclaimed fantasy trilogy-- now available in paperback
For thousands of years, young women have been vanishing from Hallow Hill, never to be seen again. Now Kate and Emily have moved there with no idea of the land's dreadful heritage--until Marak decides to tell them himself. Marak is a powerful magician who claims to be the goblin king, and he has very specific plans for the two new girls who have trespassed into his kingdom . . .

So begins the award-winning Hollow Kingdom Trilogy. Now in paperback, these editions welcome a whole new audience to the magical realm that Newbery Award winner Lloyd Alexander calls "as persuasive as it is remarkable."
The Hollow Kingdom
by Clare B. Dunkle
Overall Review:
The Hollow Kingdom is the first book in The Hollow Kingdom Trilogy. Readers who enjoy fantasy, mystery, magic and danger might find this book intriguing. Although it is not an especially long book, it covers a great deal of ground dealing with goblin lore and elven lore. The author also explores fascinating features of the goblins' kingdom.
Many of the characters are either extremely likeable or easily disliked. Very few fall somewhere in between and those who do keep the reader wondering and hoping. The character called Charm lends some dry humor to the tale.
This is not a challenging read, but some of the violence in the story could be disturbing or frightening to very young readers. An enjoyable book and one in which a reader could quit after the first book, but would likely desire to obtain the latter two books in the trilogy in order to learn more of the characters.
Content Analysis:
Profanity/Language: None
Violence/Gore: Character grabs another; character hits head and blood trickles from the wound; characters hit and slap one another; magic causes objects to break; character mentions having killed another; character threatens to force another to drink a liquid; report of character stepping on an animal and killing it; characters use knives and swords, in one scene a character is decapitated; character slashes another with a knife, pricks a finger and collects the blood as part of a ritual.
Sex/Nudity: Character imagines kissing another; characters kiss; characters embrace; married characters embrace in bed on several occasions, so sexual implications.
Mature Subject Matter:
Death
Alcohol / Drug Use:
Characters use various potions and powders, but the premise is they are magical rather than illegal substance types.
Reviewed By Susan