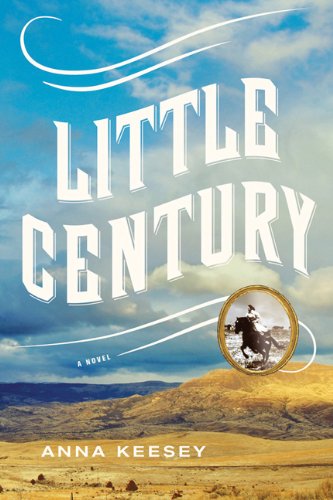 Publisher's Note:
In the tradition of such classics as My Ántonia and There Will Be Blood, Anna Keesey's Little Century is a resonant and moving debut novel by a writer of confident gifts.

Orphaned after the death of her mother, eighteen-year-old Esther Chambers heads west in search of her only living relative. In the lawless frontier town of Century, Oregon, she's met by her distant cousin, a laconic cattle rancher named Ferris Pickett. Pick leads her to a tiny cabin by a small lake called Half-a-Mind, and there she begins her new life as a homesteader. If she can hold out for five years, the land will join Pick's already impressive spread.

But Esther discovers that this town on the edge of civilization is in the midst of a range war. There's plenty of land, but somehow it is not enough for the ranchers—it's cattle against sheep, with water at a premium. In this charged climate, small incidents of violence swiftly escalate, and Esther finds her sympathies divided between her cousin and a sheepherder named Ben Cruff, a sworn enemy of the cattle ranchers. As her feelings for Ben and for her land grow, she begins to see she can't be loyal to both.

Little Century maps our country's cutthroat legacy of dispossession and greed, even as it celebrates the ecstatic visions of what America could become.
Little Century
by Anna Keesey
Overall Review:
Little Century is the bittersweet tale of young Esther Chamber's stay on the Oregon frontier. It's 1901 and although the location of Century, Oregon is considered backwoods, its citizens are the ones who are wild and untamed. The story moves gradually, but my desire to know Esther's fate had me reading late into the night. Kessey writes in the present tense, a difficult task, but her writing comes across as effortless.
With a female protagonist, this western has an appealing beauty and softness to it. Though eighteen and quite innocent, Esther is a strong character and often the only one with a moral compass. Little Century also offers a fascinating look at human nature. Kessey places her fleshed out characters in countless ethical dilemnas, which had me pondering each scenario after I was finished. In this breathtaking fight between love or duty, right or wrong, what will Esther choose?
Content Analysis:
Profanity/Language: 4 religious exclamations, 28 mild obscenities, 3 religious profanities, 5 derogatory names, 1 scatological word and 1 f-word derivative.
Violence/Gore: Report of a suicide, the president's assassination and an old cowboy fable where someone is shot; a character is kicked by a horse; violent incidences include a sheep massacre, a cat scalped, a young man brutally beaten and a fist fight with injuries; destruction of property with no casualties includes a house, wagon and windows. In a scene with intense violence, a man is shot point blank.
Sex/Nudity: Several accounts of kissing; a mention of "breasts"; a few sexual references regarding men and animals; several implied or reported incidents of sexual activity; a character recalls seeing a drawing of a naked woman; a few occurences of touching areas normally covered by a bathing suit; nudity occurs with sexual innuendo; there is a page involving the seduction and description of sex between adults.
Mature Subject Matter:
Death of a family member, death of a friend, murder, arson, robbery, corruption, questionable ethics.
Alcohol / Drug Use:
There is frequent drinking and smoking. A few characters become drunk.
Reviewed By Rachel