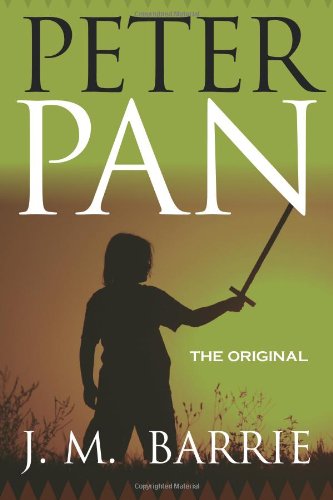 Publisher's Note:
These are the classic exploits of Peter Pan the Neverland resident whose everlasting youth and adventure has delighted readers for nearly a century. This collection features some of Peter s most memorable brushes with Captain Hook, including his first encounters with Wendy, John, and Michael. Readers and critics hoping to experience Peter Pan before its numerous film and play adaptations will enjoy this volume immensely.
Peter Pan
by J.M. Barrie
Overall Review:
Peter Pan has become a play, a Broadway musical, a movie, the name of a peanut butter, a mental complex--and the list goes on and on. Interestingly, (and a testament to the brilliance of the original work), the story and characters portrayed in the novel are easily recognizable in all the permutations and incarnations that have been birthed over the last hundred years. Technically, the book is entitled Peter Pan and Wendy and it is one of three books that J.M. Barrie wrote including the character of Peter. The language of the book and the nature of the story make it still a worthy read aloud candidate. In spite of the passage of time and the well-known story, it is still a charming novel.
Content Analysis:
Profanity/Language: 5 anatomical names.
Violence/Gore: Gun fired at characters; explanation of deeds done by pirates that resulted in their names; stated that a character kills another character; report of a crocodile eating a character's limb; character pinches another; character hit by arrow, no lasting harm; report of finding a body and that people were killed; characters fight--biting, attack with hook; swordfights mentioned (no descriptions); report of a massacre of Indians (no description); extended fight scene in which 15 pirates are killed/jump to death (general statements); a character is pierced in the ribs, mention of blood.
Sex/Nudity: A character kisses another character; the Indians in Neverland are said to be naked.
Mature Subject Matter:
Death.
Alcohol / Drug Use:
Adult character smokes cigars; a "Lost Boy" chews tobacco.
Reviewed By Cindy