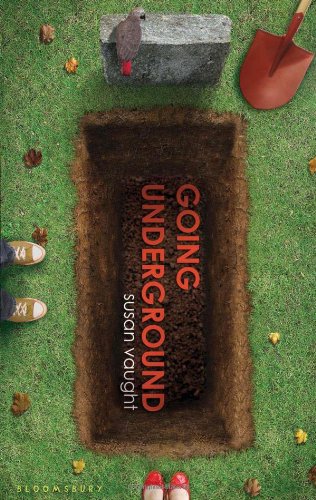 Publisher's Note:
Del is a good kid who's been caught in horrible circumstances. At seventeen, he's trying to put his life together after an incident in his past that made him a social outcast-and a felon. As a result, he can't get into college; the only job he can find is digging graves; and when he finally meets a girl he might fall in love with, there's a sea of complications that threatens to bring the world crashing down around him again. But what has Del done? In flashbacks to Del's fourteenth year, we slowly learn the truth: his girlfriend texted him a revealing photo of herself, a teacher confiscated his phone, and soon the police were involved.

Basing her story on real-life cases of teens in trouble with the law for texting explicit photos, Susan Vaught has created a moving portrait of an immensely likable character caught in a highly controversial legal scenario.
This book was sent to Compass Book Ratings for review by Bloomsbury Children's Books
Going Underground
by Susan Vaught
Overall Review:
Going Underground is an interesting and atypical coming-of-age story about a boy who was forced to grow up way too early. Del and his girlfriend made what they thought was a responsible choice and he was punished severely for it because the powers that be considered it to be a felony. Vaught did a great job of getting you emotionally involved in this book as it was such a serious issue that devastated the lives of many. She built a solid plot, including many details that painted a complete picture of Del's live, his relationships and how things came about. It's shocking (in more ways than one) to discover Del's whole story and everyone's reaction to it, including Del's. The one problem I had with this book was the language. While I understand that Vaught was trying to make the book feel "real", trying to transport the reader into a teenager's life, I found the nearly constant profanity to be quite distracting and unnecessary. This novel will entertain both male and female audiences.
Content Analysis:
Profanity/Language: 28 religious exclamations; 51 mild obscenities; 7 derogatory names; 84 scatalogical words; 52 anatomical terms.
Violence/Gore: Several (11) brief instances including but not limited to songs and books with violent references; chicken fights; fantasy violence; character getting punched; character dying.
Sex/Nudity: Many (42) brief instances including but not limited to kissing; snuggling; hug; hand holding; reference to fake breasts; sexual innuendo; sexual thoughts about other character; minor characters discussing sex; implied and reported sexual activity between minors referenced as rape; use and brief mention of pornography; adult characters having affair mentioned; young character offered condoms; non-married couple moving in together; convicted rapist.
Mature Subject Matter:
Euthanization of Animals; Grafitti; Rape; Death; Pornography; Crime.
Alcohol / Drug Use:
Referring to books about teenagers who get high and drunk; adult character drunk all the time; character asking if someone spiked the cookies; drunk driver resulting in dealth of self and others.
Reviewed By Jenny