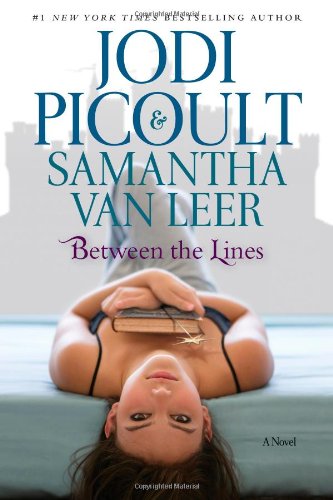 Publisher's Note:
New York Times bestselling author Jodi Picoult and her teenage daughter present their first-ever novel for teens, filled with romance, adventure, and humor.
What happens when happily ever after…isn't?
Delilah is a bit of a loner who prefers spending her time in the school library with her head in a book—one book in particular. Between the Lines may be a fairy tale, but it feels real. Prince Oliver is brave, adventurous, and loving. He really speaks to Delilah.
And then one day Oliver actually speaks to her. Turns out, Oliver is more than a one-dimensional storybook prince. He's a restless teen who feels trapped by his literary existence and hates that his entire life is predetermined. He's sure there's more for him out there in the real world, and Delilah might just be his key to freedom.
Delilah and Oliver work together to attempt to get Oliver out of his book, a challenging task that forces them to examine their perceptions of fate, the world, and their places in it. And as their attraction to each other grows along the way, a romance blossoms that is anything but a fairy tale
Between the Lines
by Jodi Picoult & Samantha Van Leer
Overall Review:
Between the Lines is a co-author effort by Jodi Picoult and her daughter, Samantha Van Leer. I must confess that I have never read a book by Jodi Picoult because I have a healthy skepticism of books where the author's name is in larger font than the title. I picked up the title mostly out of curiosity. Its catapult onto the New York Times Best Seller List was due to the Picoult name and the novel probably wouldn't be there on its own merits, but I was pleasantly surprised by this book. The fairy tale is sweet and light and the book includes lovely illustrations and fabulous silhouettes. The premise has echoes of Inkheart, but there were a few unique elements in the novel. If you are a tween or young adult girl who loves fairy tales, reading, and romance, then this is a book for you! The action was never riveting and the characters weren't terribly complex. (Interestingly, it is the Prince Oliver, rather than the female character, Delilah, that is best developed.) I love the concept of a mother-daughter collaboration and Between the Lines would be a fun selection for mother-daughter book clubs.
Content Analysis:
Profanity/Language: 6 religious exclamations; 1 mild obscenity
Violence/Gore: A character accidentally hits another character with a bat resulting in a bloody nose; a character reads a book in which there is sword fighting, death by dragons, biting, tripping, a fall to a death.
Sex/Nudity: Characters embrace and kiss upon a few occasions; reference to a husband leaving a wife for another woman and family; reference to some kids that "hooked up"; reference to being grounded until "menopause"; a character is transformed from an animal to a person and has no clothes on after the transformation.
Mature Subject Matter:
Divorce
Alcohol / Drug Use:
None
Reviewed By Cindy