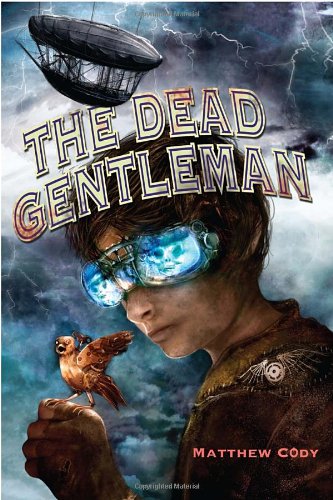 Publisher's Note:
The Dead Gentleman is a wild ride between parallel New York City timestreams—1901 and today. Eleven-year-old Tommy Learner is a street orphan and an unlikely protege to the Explorers, a secret group dedicated to exploring portals—the hidden doorways to other worlds. But while investigating an attercop (man-eating spider) in the basement of an old hotel, Tommy is betrayed—and trapped. And it's then that his world collides with that of modern-day Jezebel Lemon, who, until the day she decides to explore her building's basement, had no bigger worries than homework and boys. Now, Jezebel and Tommy must thwart the Dead Gentleman, a legendary villain whose last unconquered world is our own planet Earth, a realm where the dead stay dead. Until now. Can two kids put an end to this ancient evil and his legions of Gravewalkers?
The Dead Gentleman
by Matthew Cody
Overall Review:
The Dead Gentleman by Matthew Cody has possibly everything. Orphan...check. Vampire...check. Zombies...check. Time travel...check. Splash of steampunk...check. Homage to Jules Verne...check. Dinosaurs...check. Monsters...check. Strange, Zen-like, Yoda-like master...check. Apocalyptic end of the world scenario and battle...check. In fact, the only thing it doesn't have is the kitchen sink. The book switches character voice and perspective and jumps between present action and flashbacks. This, combined with a lot of everything else, tended to make for a choppy read at times. However, the later part of the book smoothed out and allowed action and pacing to build nicely. With both male and female protagonists, The Dead Gentleman (fabulous title, by the way) would be enjoyed by middle grade boys and girls who love a lot of action and adventure in their books.
Content Analysis:
Profanity/Language: 2 religious exclamations; 3 mild obscenities
Violence/Gore: Character battles a fantasy creature and kills it; extended scene in which characters struggle, kick, bite, cut a hand with a razor; a brief scene with monsters which is frightening; character struggles with a monster; a brief frightening/scary scene with monsters; character shocks a fantasy creature; extended scene in which a character comes upon the aftermath of a battle/massacre with mention of dead and bodies piled up and some brief graphic descriptions; dinosaurs fight resulting in the death of one; characters hit head; a character is stabbed in back, but does not die; vampire tries to drink blood of a character, some brief description and mention of blood; report of a death; description of zombie creatures; extended battle scene between ships, general descriptions, and death of a few characters.
Sex/Nudity: None
Mature Subject Matter:
Death
Alcohol / Drug Use:
None
Reviewed By Cindy