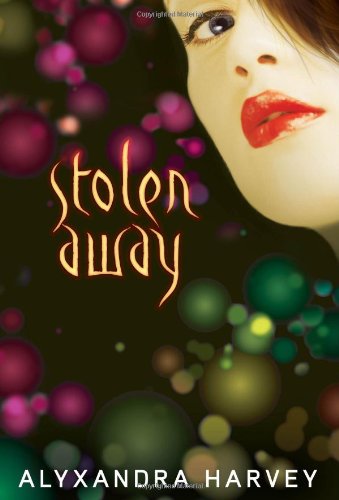 Publisher's Note:
For seventeen years, Eloise Hart had no idea the world of Faery even existed. Now she has been abducted and trapped in the Rath of Lord Strahan, King of Faery. Strahan was only meant to rule for seven years, as Faery tradition dictates, and then give up his crown to another. But he won't comply, and now chaos threatens both worlds.


The only one who can break his stranglehold on the Faery court is his wife. . . Eloise's aunt Antonia. Using Eloise to lure Antonia, Strahan captures his wife, desperate to end the only threat to his reign. Now Eloise must become the rescuer. Together with her best friends Jo and Devin, she must forge alliances with other Fae, including a gorgeous protector named Lucas, and Strahan's mysterious son, Eldric-who may or may not betray them.
This book was sent to Compass Book Ratings for review by Walker & Company
Stolen Away
by Alyxandra Harvey
Overall Review:
In this fast-paced young adult novel, Alyxandra Harvey weaves a delightful fairy tale that gives ancient British mythology a hip, often-hilarious update. From the first incongruous scene to the heart-stopping climax, I was caught up in Harvey's quirky but relatable characters and well-drawn world. Although some parts of the beginning seemed a little rough or confusing, the kinks ironed themselves out fairly quickly and I ended up greatly enjoying Stolen Away!
Stolen Away would be a great read for teens (especially those who have a little familiarity with the folk tales of the British Isles!), as well as adults who enjoy a good, fast-paced contemporary fantasy.
Content Analysis:
Profanity/Language: 10 religious exclamations. 30 mild obscenities. 9 derogatory names (most of these are used in reference to a pet goat, whose name is a derogatory term). 10 scatalogical words. 10 anatomical terms. 1 offensive hand gesture. 1 f-word derivative.
Violence/Gore: Character is verbally bullied. An old woman pelts a girl with acorns. A character is kidnapped. A character sees prisoners who appear to have been tortured. A man is wounded in a sword fight. Kids are attacked and shot with poisoned arrows by tiny creatures (no lasting damage is done). A climactic battle takes place, with a few characters wounded or killed.
Sex/Nudity: A girl says she'd kiss a hot-looking guy. A reference is made to tongue kissing. Two teenage characters share several intense kisses (the kisses are intense because of chemistry, but are still fairly simple and not overly descriptive). A girl transforms from an animal and is briefly mentioned as being naked. An adult says something about having had a lover.
Mature Subject Matter:
Single-parent families, family secrets.
Alcohol / Drug Use:
Teens drink at a party. An adult smokes.
Reviewed By CindyB