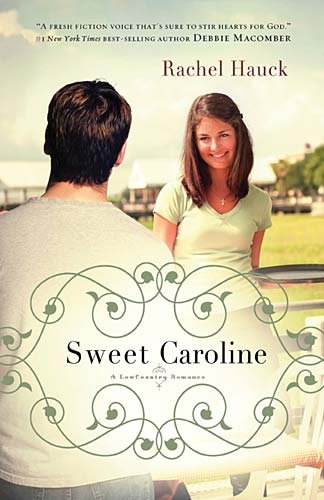 Publisher's Note:
Caroline serves others with little time to enjoy the sweeter parts of life. Until her old boyfriend returns to town--and she's given a second chance at first love.
Life hasn't always been so sweet for Caroline Sweeny.
She's sacrifice her desires for others--unlike her mother who abandoned their family years ago. But when a friend challenges her to accept an exciting job adventure in Spain, Caroline says "yes" to a new destiny.
But before she can pack her bags, Caroline suddenly finds herself the new owner of the run-down Frogmore Café--and forced to choose between her friends and her future.
Then her first love, Mitch O'Neal, returns home and encourages her to seek God's desires for her future. With his help, she may just discover the true sweet life.
This book was sent to Compass Book Ratings for review by Thomas Nelson
Sweet Caroline
by Rachel Hauck
Overall Review:
Sweet Caroline is a book full of ups and downs, twists and turns, and mixed decisions. Caroline seems to make every decision more than one time. She chooses between staying at the diner and taking a job in Spain several times before she finally makes a decision at the end of the book.
Caroline makes several choices regarding her relatioinships with J.D. and Mitch, but If you are looking for a romance, you will be sorely disappointed. The book talks about the relatioinships, but never depicts a truy passionate relationship.
Sweet Caroline does depict Caroline's realization of Jesus and how important He is to her life, but it is not a main theme of the book. Sweet Caroline is a fun book for adults who want to sit down and read a book about good old-faishoned Southern hospitality with a dash of religion on the side.
Content Analysis:
Profanity/Language: None
Violence/Gore: None
Sex/Nudity: A man asks to move in with a single woman, a man asks if he can have a "sleepover" with a single woman, a man reportedly has sex with another character, several kisses.
Mature Subject Matter:
Death of a friend
Alcohol / Drug Use:
None
Reviewed By Megan