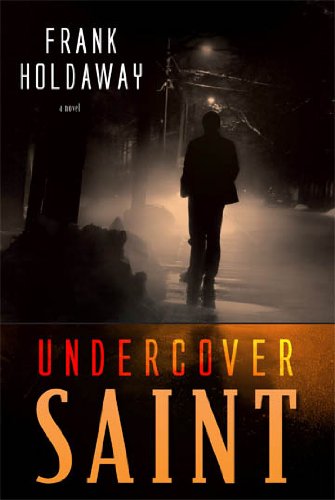 Publisher's Note:
Going undercover in a Salt Lake City Mormon singles ward is not anti-terrorist agent Matthew Knight's idea of a high-profile assignment. And he has deliberately avoided the Beehive State ever since his mother was murdered in Salt Lake City when he was eight years old. Ready at first to defy his orders from Washington, he resolves to stick around when he's attacked by a man with ties to his past. But this undercover assignment is unlike any Matt has encountered before. Not only must he find the bad guys, but he also must deal with eccentric roommates, a giant of a bishop who is also his boss, a boisterous ex-Marine who wants to engage Matthew in a public display of ultimate machismo, and a seventy-five-year old woman named Permelia who wants to marry him. And these are small distractions compared to the beautiful Hope Winslow, a woman with mountains of hair who adopts him as a surrogate big brother. But before he can think about love, Matt has to get rid of a few terrorists, including his mother's killer—and his own inner demons.
This book was sent to Compass Book Ratings for review by Covenant Communications
Undercover Saint
by Frank Holdaway
Overall Review:
Undercover Saint is packed full of interesting elements. Humor, suspense, action, romance and intense emotional situations are just a few of the things encountered in this story.
Frank Holdaway has a great idea for a novel which he develops by creating a lot of interesting characters. One of the really appealing things about this book is how the reader really takes an interest in all of the characters, not just the protagonist. The wit and humor of the main character was tastefully amusing. While the surface reactions of Matthew Knight, the main character, were most often wry and satirical, the story integrates many serious themes and readers will feel connected to the characters.
Much of the humor in this story is geared towards members of The Church of Jesus Christ of Latter-day Saints. Readers unfamiliar with the culture may not fully understand or appreciate some of the jokes and stereotypes, but as part of the story, the author explains many of these.
This book was fun to read. Many great life lessons can be learned in this fiction book and readers will finish the book feeling that the lives of the characters have been satisfactorily concluded. A great read that has dozens of different noteworthy topics to discuss.
Content Analysis:
Profanity/Language: None
Violence/Gore: Reports of characters attacking others; reports of characters dying in various fashions including beheading, plane crash and head injury, brief mentions of blood; report of character shooting an animal for fun; characters discuss poisoning others; character reported to have committed suicide; several scenes of characters attacking one another, one 2 pages and includes brief mention of blood and broken nose; two page scene in which a character is shot and killed; report of a car bomb; two page scene describing military violence such as sniping.
Sex/Nudity: Non-married characters hug, embrace, kiss and put hands on knees.
Mature Subject Matter:
Death of family members including parents, spouses and children, death of friends, terminal illness, terrorism, suicide.
Alcohol / Drug Use:
Reports of characters using needles, joints and being addicted to pain pills; character died of drug overdose; character reported to drink beer.
Reviewed By Susan