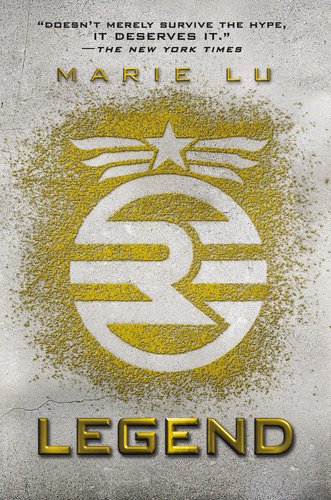 Publisher's Note:
What was once the western United States is now home to the Republic, a nation perpetually at war with its neighbors. Born into an elite family in one of the Republic's wealthiest districts, fifteen-year-old June is a prodigy being groomed for success in the Republic's highest military circles. Born into the slums, fifteen-year-old Day is the country's most wanted criminal. But his motives may not be as malicious as they seem.
From very different worlds, June and Day have no reason to cross paths--until the day June's brother, Metias, is murdered and Day becomes the prime suspect. Caught in the ultimate game of cat and mouse, Day is in a race for his family's survival, while June seeks to avenge Metias's death. But in a shocking turn of events, the two uncover the truth of what has really brought them together, and the sinister lengths their country will go to keep its secrets.
Full of nonstop action, suspense, and romance, this novel is sure to move readers as much as it thrills.
Legend
by Marie Lu
Overall Review:
Overall, Legend was a very good book. Its characters were engaging and the plot moves quickly with enough twists and turns to surprise the reader. The action is fast-paced, but there are enough quiet moments for the reader to build a small emotional investment in the book. However, the book's dystopian setting (a crumbling city in the future ruled by a Big Brother type government) is all too familiar for this genre, and the ending, while satisfying, did leave me wishing the author had taken the opportunity to wander out into fresher territory rather than taking the clear cut path. But don't hold that against the rest of the novel, it is still a good read by all means, that any teenager will enjoy reading, and will frantically anticipate the next book, Prodigy, coming out in 2013.
Content Analysis:
Profanity/Language: 3 religious exclamations; 11 mild obscenities.
Violence/Gore: Several characters are shot, resulting in injury or death; a character dies from stab wounds; several characters are tortured, with some graphic description; there is a graphic description of a plague victim; there are several fights involving fists and knives where characters are wounded; a character is executed (non-graphic); a character suffers injuries jumping out of a tall building.
Sex/Nudity: 2 characters share a kiss on 2 occasions; some characters often wish or think back to kissing other characters; one character attempts and fails to kiss another character.
Mature Subject Matter:
Death of family, government corruption, poverty, violence, rebellion against government
Alcohol / Drug Use:
Characters drink cheap wine on one occaison
Reviewed By Jackson