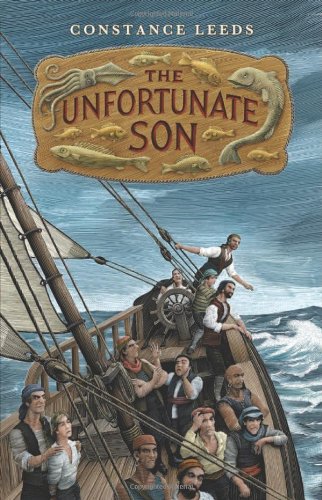 Publisher's Note:
Kidnapping, family secrets, and adventure on the high seas--perfect for middle grade fans of historical fiction!

What does it mean to be lucky? Luc doesn't really know. He was born with just one ear, his father constantly berates him, and his younger brother is already bigger and stronger than he is. But when he is chosen to become an apprentice to a local fisherman, his life takes a turn for the better. Luc is a natural at sea, and before long he and a teenaged girl who lives with the fisherman form a strong bond. That bond is tested when Luc is taken captive by a band of merciless pirates, and sold into slavery.

Moving from 1485 to 1500, from France to Africa, from humble beginnings to a noble future, this historical fiction adventure will leave readers pondering the true meaning of good fortune.
The Unfortunate Son
by Constance Leeds
Overall Review:
The Unfortunate Son by Constance Leeds is a charming novel that historical fiction fans will find quite satisfying. This book has boy and girl appeal because of its characters, Beatrice and Luc. In fact, all of the characters are quite pleasant and likeable; the book has a redemptive and positive tone in spite of the hardships the characters encounter. Moderately paced, the location has a touch of the exotic by taking the reader to Africa. The conclusion of the book resolves the major conflict, but the secondary question of the status of some of the characters' future relationships is not addressed. This may have been intentional on the the author's part to leave open possibilities for future books.
Content Analysis:
Profanity/Language: 1 religious exclamation; 4 mild obscenities.
Violence/Gore: Characters scuffle; a kidnapping; a father hits a child; a character is punched; a description of the process of slaughtering a pig for food with mention of blood; a character bites the head of a snake off; there is a second hand report of a character being hit, a husband killing a wife, and cutting an appendage from a child, resulting in his death; half-joking report/story of a cannibal eating a slave girl; a character threatens, hits, kicks, pinches another character on multiple occasions; a bird bites a character; a character falls with a resulting head injury, mention of blood; report of an animal being killed; a brief scene in which a young child witnesses the execution of her father by beheading.
Sex/Nudity: It is speculated whether a character is an illegitimate child of another character; there is a reference to harems and eunuchs.
Mature Subject Matter:
Physical deformaties, Slavery
Alcohol / Drug Use:
A character is often drunk.
Reviewed By Cindy