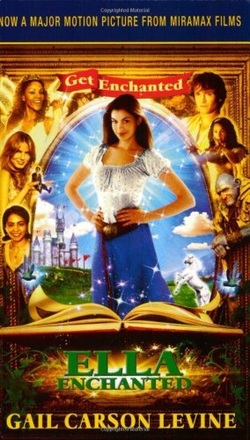 Publisher's Note:
At birth, Ella is inadvertently cursed by an imprudent fairy named Lucinda, who bestows on her the "gift" of obedience. Anything anyone tells her to do, Ella must obey. Another girl might have been cowed by this affliction, but not feisty Ella: "Instead of making me docile, Lucinda's curse made a rebel of me. Or perhaps I was that way naturally." When her beloved mother dies, leaving her in the care of a mostly absent and avaricious father, and later, a loathsome stepmother and two treacherous stepsisters, Ella's life and well-being seem in grave peril. But her intelligence and saucy nature keep her in good stead as she sets out on a quest for freedom and self-discovery, trying to track down Lucinda to undo the curse, fending off ogres, befriending elves, and falling in love with a prince along the way. Yes, there is a pumpkin coach, a glass slipper, and a happily ever after, but this is the most remarkable, delightful, and profound version of Cinderella you've ever read.
Ella Enchanted
by Gail Carson Levine
Overall Review:
Ella Enchanted is one of my favorite fairy tale retellings of all time. It's a perfect fantasy: A 'damsel in distress', a prince, an indifferent parent, fairies (including a fairy godmother!), man-eating ogres, future-telling gnomes, fun-loving giants, talented elves, an evil step-mother (of course!!), evil and greedy stepsisters… Put all those characters together and add some spur of the moment travels, finishing school, a few balls, and, above all, a curse, and you have a recipe for something unforgettable!
The writing for this novel is accessible to any age. From young children to adults, everyone can find something to love. The characters are individuals with such sparkle! Ella's gift with languages is uncanny and so much fun as she converses with the different species she meets along her way to find the fairy Lucinda and, hopefully, break her curse! The stepsisters are not just nasty—they have personality, even if those personalities are cunning and evil…and a bit daft. There are wonderful moments of humor—as Ella tries to find new ways to thwart the commands she is given, but especially when a wig is stolen! The relationship between Ella and Prince Char is so sweet—from her desire to make him laugh, to the exchanging of letters while he is away in Ayortha, to their final encounter, it's enough to make you sigh with pleasure. Ella Enchanted is a timeless Gem!
Audiobook Review by Amber: Ella Enchanted is a perfect audiobook for all ages. Ella is portrayed as the stubborn teenager that she is, but is not annoyingly so (which is a blessing). Although Ella's life is hard, she refuses to be a victim and is always the one to act. She is a strong role model, good for any child to read about. Eden Riegel, the narrator, is a funny and animated actress. The reader's voice is young and bright and gives the book a happy feel. She makes the book ending so invigorating and full of excitement.
Content Analysis:
There is no profanity or sexual content (there is a strain of romance throughout, and two characters kiss, but it is very sweet).
The violence centers around the ogres, mostly. They eat living creatures. A horse is eaten. A character is caught by ogres and they talk about which parts they're going to eat (the character is not eaten). Ogres chase down a carriage so they can eat the people inside (again, they're not eaten). Ogres try to eat a human and a gnome. One character dies because of illness. A character always thinks of the worst things that could happen because of a curse (many of them involve death and sadness). Some characters are very cruel to another character (making them become a servant and forcing them to work extremely hard).

Mature Subject Matter:
A few of the themes are overcoming curses (obstacles/difficulties), loss of loved ones, and dealing with difficult people/life situations. I read this book aloud to my children and they loved every minute!
Alcohol / Drug Use:
None
Reviewed By Emily