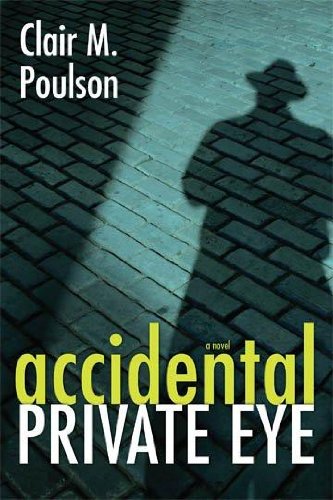 Publisher's Note:
Out of work. Out of money. Out of options. After a streak of bad luck, army veteran Dallas Rowen is due for a break, and he finds it in a single sentence uttered by a stranger: I need your help. Mistaken for a private investigator and desperate for cash, Dallas is enticed by the promise of a paycheck and apprehensively takes on the role of detective. The death of demolition derby driver Jerry Grady has flooded the news. However, they've omitted one piece of information: it wasn't the impact of the crash that killed him it was the bullet to his head. Dallas sets out on the increasingly dangerous investigation, determined to make good on his vow to uncover the truth. As he closes in on the killer, the duplicitous detective quickly realizes time is running out in the battle for justice. The crosshairs of a murderer are turning toward him. With his trademark gripping narrative, master of suspense Clair Poulson delivers a fast-paced, carefully plotted thriller that will leave audiences breathless.
This book was sent to Compass Book Ratings for review by Covenant Communications
Accidental Private Eye
by Clair M. Poulson
Overall Review:
Give Clair Poulson credit for a choosing a unique focus for his novel. Apparently, according to the dedication, one of his grandsons loves demolition derbies, so Poulson wrote a murder mystery involving participants in demolition derbies. Very cool.
As one can imagine, the story has lots of cars and even a scene from a demolition derby. No disappointed fans here, as readers enjoy smashing, crunching and blown radiators.
The writing in the story was not especially unusual or noteworthy. It flows smoothly and is easy enough to follow. A couple of times early on, the main character refers to young women as little ladies and young ladies and such. It seems inconsistent with the character's age and personality, but after a few chapters that discontinues.
The mystery itself really does keep the reader wondering as lots of people with motives and hidden agendas try to protect their own interests. Poulson also manages to insert a bit of tasteful romance that keeps the reader curious. By the end, everything is neatly resolved in an almost too short epilogue. Sit back and enjoy the ride.
Content Analysis:
Profanity/Language: None
Violence/Gore: Many references to murders already executed; report of character having been cut with a razor blade; characters ram into one another, hit one another with fists or objects and kick one another; characters shot at; characters threatened with various weapons; characters threaten to kill or harm others; character reported to have been killed in auto accident.
Sex/Nudity: Report of a married character attempting to put his hands on an unmarried character; non-married characters kiss on cheeks and lips, hold hands and embrace.
Mature Subject Matter:
Addiction, greed, theft, death of family member and friend.
Alcohol / Drug Use:
One adult character is an alcoholic and is found in various states of inebriation, including the consumption of whiskey.
Reviewed By Susan