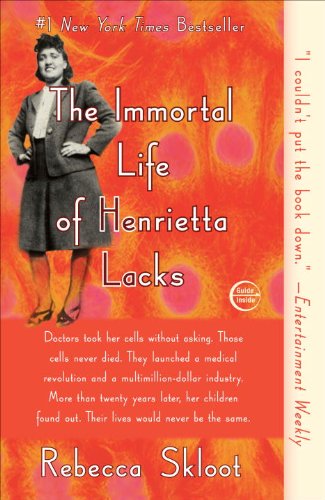 Publisher's Note:
Her name was Henrietta Lacks, but scientists know her as HeLa. She was a poor Southern tobacco farmer who worked the same land as her slave ancestors, yet her cells—taken without her knowledge—became one of the most important tools in medicine. The first "immortal" human cells grown in culture, they are still alive today, though she has been dead for more than sixty years. If you could pile all HeLa cells ever grown onto a scale, they'd weigh more than 50 million metric tons—as much as a hundred Empire State Buildings. HeLa cells were vital for developing the polio vaccine; uncovered secrets of cancer, viruses, and the atom bomb's effects; helped lead to important advances like in vitro fertilization, cloning, and gene mapping; and have been bought and sold by the billions.

Yet Henrietta Lacks remains virtually unknown, buried in an unmarked grave.

Now Rebecca Skloot takes us on an extraordinary journey, from the "colored" ward of Johns Hopkins Hospital in the 1950s to stark white laboratories with freezers full of HeLa cells; from Henrietta's small, dying hometown of Clover, Virginia—a land of wooden slave quarters, faith healings, and voodoo—to East Baltimore today, where her children and grandchildren live and struggle with the legacy of her cells.

Henrietta's family did not learn of her "immortality" until more than twenty years after her death, when scientists investigating HeLa began using her husband and children in research without informed consent. And though the cells had launched a multimillion-dollar industry that sells human biological materials, her family never saw any of the profits. As Rebecca Skloot so brilliantly shows, the story of the Lacks family—past and present—is inextricably connected to the dark history of experimentation on African Americans, the birth of bioethics, and the legal battles over whether we control the stuff we are made of.

Over the decade it took to uncover this story, Rebecca became enmeshed in the lives of the Lacks family—especially Henrietta's daughter Deborah, who was devastated to learn about her mother's cells. She was consumed with questions: Had scientists cloned her mother? Did it hurt her when researchers infected her cells with viruses and shot them into space? What happened to her sister, Elsie, who died in a mental institution at the age of fifteen? And if her mother was so important to medicine, why couldn't her children afford health insurance?

Intimate in feeling, astonishing in scope, and impossible to put down, The Immortal Life of Henrietta Lacks captures the beauty and drama of scientific discovery, as well as its human consequences.
The Immortal Life of Henrietta Lacks
by Rebecca Skloot
Overall Review:
The Immortal Life of Henrietta Lacks has been on the New York Times best seller list for quite some time, and I can certainly understand why. I found the book fascinating and highly readable, even the chapters heavily laced with scientific information. There are three basic topic threads running throughout the story: the life of Henrietta Lacks, some history of medical research--especially cell research, and the author's journey as she pieces together Henrietta Lack's life and that of her family. The threads weave in and out and connect with one another as Rebecca Skloot introduces us to Henrietta and gives us a glimpse into a particular place and time in American history that many of us may not be aware of.
In 1951 Henrietta sought medical treatment at Johns Hopkins, a charity hospital that provided care for black patients. Her diagnosis was cervical cancer. Before her treatment began, a physician removed tissue samples from Henrietta and gave the samples to another physician at Johns Hopkins who was trying to establish a continuously reproducing, or immortal, human cell line for use in cancer research. Henrietta was not asked, nor was she informed that samples had been taken from her cervix. And so began the over 60 year journey of HeLa cells, the most commonly used cells in medical research to date. Henrietta's family learned of the existence of the HeLa cells in the 1970's and were completely confused and bewildered about the cells. Cootie, a cousin of Henrietta's summed it up stating "Nobody round here never understood how she dead and that thing still living. That's where the mystery's at." Deborah, Henrietta's daughter, believed for many years that her mother was "eternally suffering" from all the experiments performed on her cells.
The Immortal Life of Henrietta Lacks is the biography of a woman and her children and grandchildren, but it is also the biography of HeLa cells and their role in modern medicine. The story raises many questions about medical research, how it should be conducted and who should benefit from the research. In the words of Deborah, Henrietta's youngest daughter: "If our mother cells done so much for medicine, how come her family can't afford to see no doctors? Don't make no sense."
With significant mature content (see below), this book is recommended for adult readers. A fascinating and thought-provoking book!
Note: Audiobook reader is fabulous!
Content Analysis:
Profanity/Language: 10 mild obscenities; 17 derogatory names; 11 "F" words or derivatives.
Violence/Gore: 1 description of starving children by feeding them one biscuit per day and putting latches and bolts on the cabinets and refrigerator. 1 description of forcing children to pick tobacco from sunup to sundown with no food or water or breaks. 1 description of a child being beaten with fists, shoes, chairs, and sticks. 1 description of a child being beaten bloody with a belt. 1 description of a child being locked in a dark basement, tied up, standing on one foot in the corner. 1 description of a child shooting strangers on the sidewalk with a BB gun. 1 description of an adult male striking a minor female in the face causing a laceration. 1 description of a male murdering another male with a knife. 1 description of a male striking a female across the face with a plate. 1 description of a female stabbing a male with a knife. 1 description of drilling a hole through the skull of a patient in a mental facility and then inserting a "probe" into the brain.
Sex/Nudity: 1 description of an adult male forcing his hands under the clothing of a minor female relative. 1 description of an adult male lying on a bed without clothing, rubbing himself in the presence of a minor female relative. 1 description of an adult male "throwing" a minor female onto a bed. 1 description of an adult male forcing a minor female relative into a car to "have his way with her". Several references, without description, of implied sexual abuse. 3 references of a man "running around" with a woman other than his wife. 1 detailed account of a "Voodoo Spirit" complete with dragging chains, which inhibited Henrietta because "regular cancer don't keep on growing after a person die." 1 reference to cousins "messing" with each other.
Mature Subject Matter:
There is significant mature content, including: detailed descriptions of physical abuse, descriptions of experiments performed on patient's in mental institutions, discussion of sexual abuse and incestuous relationships within the family without specific details, discussion of slavery, racism, extreme poverty, sexually transmitted disease, cancer, bioethics, death, voodoo and alcoholism.
Alcohol / Drug Use:
1 reference to "drinking heavily and shooting heroine for years"; 4 references to "drinking" without details; 1 reference to drinking beer.
Reviewed By Sherel