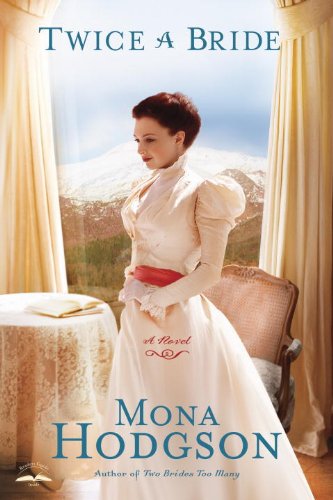 Publisher's Note:
Love lost doesn't mean love lost forever.
Can unexpected romance deliver a second chance for two deserving widows?

Full of resolve, young widow Willow Peterson decides to pursue her dreams to be an artist as she settles into a new life in the growing mountain town of Cripple Creek. When she lands a job working as a portrait painter with handsome entrepreneur and photographer Trenton Van Der Veer, the road before Willow seems to be taking a better-than-anticipated turn.

With questions tugging at several hearts in town, including the Sinclair Sisters' beloved Miss Hattie, change is traveling down the tracks as several unexpected visitors make their way out West. Will the new arrivals threaten the deep family bonds of the Sinclair sisters and the roots of love that are just taking hold for Willow?

Filled with the resonating questions that all women face, this romance awakens hope against grief, love against loss, and dreams against life's unexpected turns.
This book was sent to Compass Book Ratings for review by Waterbrook Press
Twice a Bride
by Mona Hodgson
Overall Review:
In Twice a Bride, Willow has finally overcome much of her grief over the loss of her husband. She knows it's time to move on, but she's not sure what her next move will be until she reads the advertisement in the paper for a portrait painter. She sees this as an answer to her prayers and applies. As she works with her new boss, Trenton Van Der Veer, she knows they feel an awkward connection. Is it possible that she...and Trenton, for that matter...can have a second chance at love?
The strongest point of this novel is its characters. They are witty, developed, and full of, well, character! The flaws are endearing, such as Trenton's stutter or Willow's ability to be VERY forthcoming in her responses to everything. The character of Mollie Kathleen Gortner (the mine owner and based on a real life person) is charming and a great addition to the cast.
One thing to note is the fact that this is the fourth novel in a series. While it is possible to read this book as a stand-alone, there are quite a few inferences to past activities and plots that definitely leave you wondering what happened. This is, of course, good, if you've read all the other novels. It could also induce you to read all the other novels!
Overall, Twice a Bride is a very sweet book. It is one that will bring you comfort along with that spark of sweet romance that's perfect for a winter evening curl-up or a late night indulgence.
Content Analysis:
Profanity/Laanguage: 1 mild obscenity
**Note: This is a Christian novel. The characters often pray, talk of their converstions, and use the name of diety, but never in a profane way. Those usages have not been tallied here.
Violence/Gore: Characters talk about or think about past deaths (drownings, scaldings, etc.) of loved ones; a train wrecks and there is a great deal of feeling (fear) and some minor detail as to the damage--a character dies.
Sex/Nudity: Some kissing and holding hands; a character caresses anothers' face to make someone jealous; a character has a baby (this has some detail and is a 2 page extended scene); a few references to 'those women' or 'dancing hall girls'.
Mature Subject Matter:
Death of Family Members; Faith and Religion; Mental Illness; Coping with Loss.
Alcohol / Drug Use:
There is a 'town drunk' who discusses his alcohol abuse with another character.
Reviewed By Emily