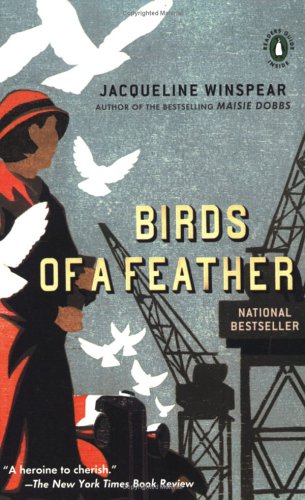 Publisher's Note:
Jacqueline Winspear's marvelous and inspired debut, Maisie Dobbs, won her fans from coast to coast and raised her intuitive, intelligent, and resourceful heroine to the ranks of literature's favorite sleuths. Birds of a Feather finds Maisie Dobbs on another dangerously intriguing adventure in London "between the wars." It is the spring of 1930, and Maisie has been hired to find a runaway heiress. But what seems a simple case at the outset soon becomes increasingly complicated when three of the heiress's old friends are found dead. Is there a connection between the woman's mysterious disappearance and the murders? Who would want to kill three seemingly respectable young women? As Maisie investigates, she discovers that the answers lie in the unforgettable agony of the Great War.
Birds of a Feather
by Jacqueline Winspear
Overall Review:
"As I have said many times, my dear, each case has a way of shining a light on something we need to know about ourselves."
In Birds of a Feather, the intuitive Maisie Dobbs is asked to locate the whereabouts of a missing woman. As the search begins, Maisie finds much more than she bargained for, including a connection to horrors of World War I. What lies ahead is a beautifully heartbreaking tale about the lingering effects of war.
What makes Jacqueline Winspear a superb mystery writer is that her stories are much more than a "whodunnit". This second book of the Maisie Dobbs series not only includes elegant prose and suspenseful pacing, but examines the complexities of life, loss, and despair. Haunting, but without cheap thrills, Birds of a Feather will resonate with readers long after the last page.
Content Analysis:
Profanity/Language: 15 religious exclamations; 3 mild obscenities
Violence/Gore: Several reports of violence, including talk of murder, suicide, explosions that lead to death and injury; a man is injured from a fall and receives non-life threatening injuries; a woman is caught stabbing what she believes is a person; a character finds a dead body after a non-detailed scene of violent death; a description of a murder, complete with blood and gore, is included.
Sex/Nudity: A sexual affair is implied; a secondhand account reports an abortion has taken place
Mature Subject Matter:
War, murder, death, troubled family relationships, drug use
Alcohol / Drug Use:
Several characters drink and smoke; a character is dependent on cocaine
Reviewed By Rachel