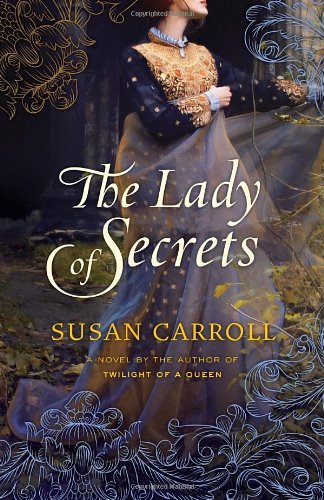 Publisher's Note:
This brilliant new installment in bestselling author Susan Carroll's mesmerizing Dark Queen historical fiction series is perfect for fans of Philippa Gregory.


Queen Catherine de Medici is dead, and for Meg Wolfe—successor in a line of legendary healers and mystics known as "daughters of the earth"—it is a time of new beginnings. She strives to be ordinary, invisible in the mists of Faire Isle, and is determined to put the terrifying days of a wicked mother and turbulent childhood behind her. But soon a summons from King James will rekindle a menacing power from the past, bringing haunting visions of a nightmare already unfolding—and a shattering mystery steeped in magic that will determine a destiny from which she cannot hide.


Meg's task: Save the king from the most insidious form of treachery, invisible to those who do not possess Meg's extraordinary gifts. But as Meg discovers, there are more sinister motivations at play in the king's world. Torn between two very different men whose motives and secrets are tied inexorably to her own fate, Meg learns that she can no longer trust anyone or anything—not even her own heart.
This book was sent to Compass Book Ratings for review by Random House
The Lady of Secrets
by Susan Carroll
Overall Review:
The Lady of Fair Isle just wants to be helpful and keep her island and her people safe. Unfortunately, life is just not that simple. Because her mother was a well-known witch and sorceress, Margaret (Meg) is constantly barraged by those who either were her mothers' followers, or those who wished to destroy the coven of witches. She's tried so hard to leave that behind and forget about her past; she hopes that no one will figure out who she really is so she can finally live in peace.
When Meg and her friend Seraphine go to the mainland to help a young girl who is 'possessed', they meet with Sir Patrick and his friend, Armagil. What follows is an adventure for everyone full of fear, treason, witchcraft and romance.
The story is fast-paced and rarely lags and the author keeps your attention the entire time. I will freely admit that even I wasn't prepared for that little twist at the end! The characters are fairly real even if they feel more plot-driven than character-driven.
The story itself is very dark and heavy on witchcraft and revenge. Those whom have been wronged by the witch hunters not only want to see justice done, but want to see the almost extinct coven of the Silver Rose reincarnated so they can take over the world. They will go to any lengths to see it through and aren't squeamish about a little bloodshed and kidnapping now and then.
The Lady of Secrets is definitely full of secrets--and not one that you'll want to read in the dark!
Content Analysis:
Profanity/Language: 26 Religious exclamations; 74 mild obscenities; 6 derogatory names; 2 scatological words; 6 anatomical terms.
Violence/Gore: Characters threaten to blow up another character; characters threaten to kill/decapitate/maim other characters; A character wishes revenge on another; characters are involved in witch burnings (2 are extended with detail of the characters being burned); Many reports of violence including witch burnings, some grotesque murders, attacks on characters and kidnappings; a few frightening scenes of sorcery (1 is a 6 page extended seance with many details and a character dies); a character uses an animals' innards for a spell; a character is poisoned (6 page extended scene that is very intense); Some characters are murdered in violent ways; a character is mutilated and the blood is used for spells; there are a few scenes with a lot of blood involved.
Sex/Nudity: There is some kissing, flirting and attraction between a few characters; a character is caught making love with another (two instances, no details); Many jokes, innuendoes and sexual thoughts; Some touching and caressing between characters; a character discusses their lovers in some minor detail; two characters discuss sex and lovers; a character often imagines another character nude (with some detail); one extended explicit sexual encounter (10 pages).
Mature Subject Matter:
Witchcraft, sorcery, superstition, murder, mental illness, treason, hatred, revenge, curses/evil spells.
Alcohol / Drug Use:
A character is drunk often in order to 'escape'; characters often drink (wine/beer) at meals.
Reviewed By Emily