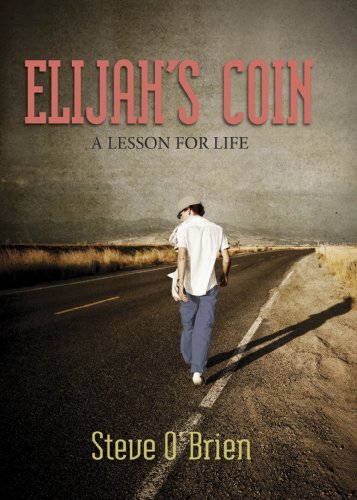 Publisher's Note:
Elijah's Coin is the story of Tom, a young man who has suffered a tragic loss and is spiraling out of control. He's angry, anti-social, and rapidly descending into a life of crime. Then, during a night of folly, as he brazenly commits burglary, Tom encounters the night watchman Elijah King, a mysterious figure with a shrouded past. Elijah, unexpectedly, doesn't turn Tom in but instead becomes a stern and rather cryptic mentor to him. Rather than laying his lessons out in a straightforward manner, Elijah gives Tom an enigmatic coin and sends him on a mission of self-discovery.
This book was sent to Compass Book Ratings for review by Cadence Group
Elijah's Coin
by Steve O'Brien
Overall Review:
How many of us have ever felt that we're at a dead end? That we just can't seem to ever find happiness or succeed? Or wonder why our lives are just not going as well for us as we think we deserve? Steve O'Brien takes us on a journey to discover some of the answers to these questions. This is a worthy read, and one I won't forget easily. This little book packs a lot of information! It's a very short book written in 'novel' form and can be reread easily in order to glean as much as possible and soak it all in. If more people practiced the values presented herein, there would be much less selfishness, and the evening news would be a near positive experience! The storyline reads easily and there is some wonderful character development. After finishing 'Elijah's Coin', I'm ready to keep my coin in my pocket as a reminder: Observe. Think. Believe. Act. Now pass it on.
Content Analysis:
A wonderful lack of sexual content, and there are less than 10 swear words in the whole book.
There is a little violence. One character is robbed, and a character is killed. One character wants to kill another character. Another character tries to kill many others.
Mature Subject Matter:
The mature themes consist of overcoming grief and anger. There is talk of stealing and abandonment. There are many tense moments.
Alcohol / Drug Use:
***
Reviewed By Emily