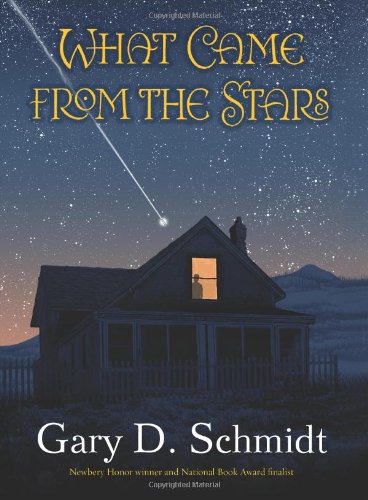 Publisher's Note:
The Valorim are about to fall to a dark lord when they send a necklace containing their planet across the cosmos, hurtling past a trillion stars . . . all the way into the lunchbox of Tommy Pepper, sixth grader, of Plymouth, Mass.
Mourning his late mother, Tommy doesn't notice much about the chain he found, but soon he is drawing the twin suns and humming the music of a hanorah. As Tommy absorbs the art and language of the Valorim, their enemies target him. When a creature begins ransacking Plymouth in search of the chain, Tommy learns he must protect his family from villains far worse than he's ever imagined.
What Came From the Stars
by Gary D. Schmidt
Overall Review:
What Came From the Stars by Gary D. Schmidt is so unexpected that I kept referring to the cover to verify Schmidt had actually written this book. Schmidt's previous works, such as The Wednesday Wars and Okay for Now, have been historical fiction filled with poignancy, depth, and abundant humor. What Came From the Stars is actually a science fiction novel that alternates between events in contemporary Massachusetts and events in a distant world. The events in the distant world are written in a high fantasy language style. Very little of Schmidt's trademark humor is present in What Came From the Stars, but a whisper of it can be found in the glossary.
As exciting as it is to see an author stretch beyond their past style and works, this novel, while respectable, didn't shine as brightly as Schmidt's previous works. The literary style and font of the story that took place on the other world was hard work to wade through. The sprinkling of vocabulary from another language also made for breaks in the reading flow. The main character, Tommy Pepper, seemed to be in a fog and this made it difficult to really sink into the character and his story. Based on my previous reading experience with Schmidt's works, I have come to expect perfection from him, but that is probably unfair.
Lovers of science fiction and high fantasy, such as Lord of the Rings, would probably enjoy this book. There is nobility and sacrifice in the science fiction/fantasy section. Schmidt does weave in some deeper themes and gives the reader a satisfying conclusion. Schmidt bravely moved out of his comfort zone and now I am more curious than ever to see what Schmidt turns his hand to next.
Content Analysis:
Profanity/Language: None
Violence/Gore: A character is a bully; report of a death in the past by car accident; destruction of property in storms; destruction of property with a sword; second hand report of a murder; a frightening scene during a storm; there were several scenes (a few were extended scenes) involving battles with swords that result in deaths (no graphic details provided); a character falls to death during a battle; a character is injured in a sword fight; kidnapping; a character is killed by magic/science.
Sex/Nudity: None
Mature Subject Matter:
Death of a Family Member, War.
Alcohol / Drug Use:
***
Reviewed By Cindy