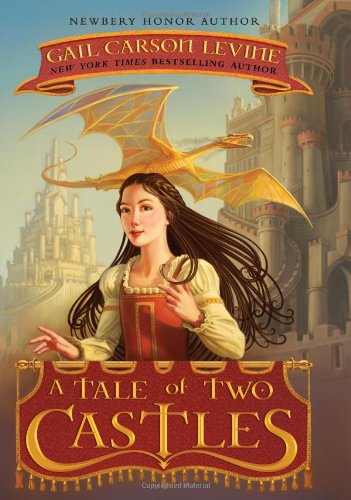 Publisher's Note:
Newbery Honor author of Ella Enchanted Gail Carson Levine weaves a spellbinding tale about a clever heroine, a dragon detective, and a shape-shifting ogre.
Newly arrived in the town of Two Castles, Elodie unexpectedly becomes the assistant to a brilliant dragon named Meenore, and together they solve mysteries. Their most important case concerns the town's shape-shifting ogre, Count Jonty Um: Someone is plotting against him. Elodie must disguise herself to discover the source of the threat amid a cast of characters that includes a greedy king, a giddy princess, and a handsome cat trainer.
Readers who loved Ella Enchanted and Fairest will delight in this tale of a spirited heroine who finds friendship where she least expects it and discovers that goodness and evil come in all shapes and sizes.
A Tale of Two Castles
by Gail Carson Levine
Overall Review:
When Elodie boards a boat headed for Two Castles, her family is expecting her to become an apprentice weaver, but she has other plans. She quickly finds herself in a predicament when she discovers that the rules have changed for apprenticehips and she just may end up starving. When she ends up assisting and working with exactly who her parents warned her to stay away from, things get very interesting.
This great tale includes everything you need: a princess, a thief, a dragon, an ogre and plenty of surprises. Add a mystery to the mix and you have yourself a fun and interesting little story. You can't help but love Elodie and even the ogre. The peculiar germophobic dragon with its ever-changing smoke is good for a little laugh from time to time. Gail Carson Levine fans and those who enjoy a quirky fairy tale will enjoy this excellent book!
Content Analysis:
Profanity/Language: ***
Violence/Gore: Few (10) brief incidents including poisoning and attempt to poison; fantasy violence; animal at butcher; character slapped.
Sex/Nudity: One brief incident of married couple holding hands.
Mature Subject Matter:
Stealing
Alcohol / Drug Use:
Adults drink alcoholic beverages.
Reviewed By Jenny