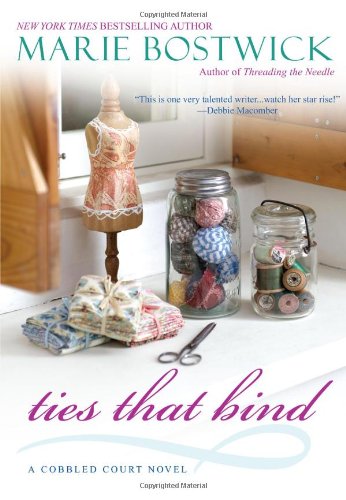 Publisher's Note:
Margot Matthews loves her job at the Cobbled Court Quilt Shop and the life and friendships she's made in New Bern, Connecticut; she just never thought she'd still be single on her fortieth birthday. And Margot's friend, Abigail, is trying to match-make even though Margot has all but given up on romance. When Philippa, a new female pastor arrives in town, truth be told not everyone is happy about it. Yet despite a rocky start, Philippa begins to settle in - finding ways to ease the townspeople's burdens, joining the quilting circle, and forging a fast friendship with Margot. When tragedy threatens to tear Margot's family apart, Philippa's friendship - and the help of the quilting sisterhood - will prove a saving grace. And while she untangles her feelings for another new arrival in town, Margot realizes that it is the surprising detours woven into life's fabric that provide its richest hues...
Ties That Bind
by Marie Bostwick
Overall Review:
Ties That Bind is the fifth Cobbled Court Quilts novel. It is recommended that readers read the previous four books as they provide the background on the supporting characters, but the book does stand alone. Marie Bostwick writes her stories from multiple characters' perspectives and each chapter is labeled accordingly. This could be annoying to some, but it works well here.
This is not a fast paced novel, yet still compelling. Almost from the beginning, the characters invite readers into their lives. Crying, laughter, anger and perhaps empathy should not be unexpected. Although much of the plot was unsurprising, the story still had its tense moments. A nice read that is reminiscent of the Mitford series, but much more interesting.
Content Analysis:
Profanity/Language: None
Viloence/Gore: Physician removes bloody lab coat; character shoves another; character knees another in the groin.
Sex/Nudity: Married characters embrace and kiss; married character puts arm around non-married character; unmarried character is pregnant; married character attempts to force affections on non-married character, two page encounter with brief description of tongue in mouth and wandering hands; non-married characters embrace, kiss and walk arm in arm; artificial insemination discussed with some detail, including words like semen and fertilization.
Mature Subject Matter:
Death of family member, death of friend, infertility, divorce, infidelity, custody disputes.
Alcohol / Drug Use:
Adult character addicted to drugs in past and entered rehab multiple times; teen smokes a cigarette; adult characters consume small quantities of alcohol.
Reviewed By Susan