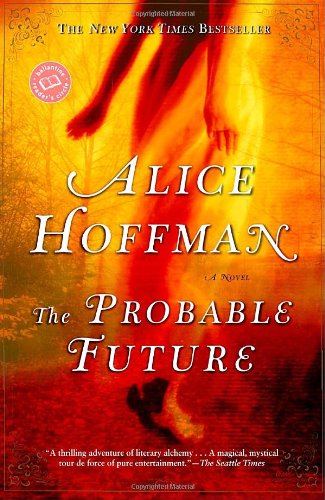 Publisher's Note:
The women of the Sparrow family have lived in New England for generations. Each is born in the month of March, and at the age of thirteen, each develops an unusual gift. Elinor can literally smell a lie. Her daughter, Jenny, can see people's dreams as they're dreaming them. Granddaughter Stella, newly a teen, has just developed the ability to see how other people will die. Ironically, it is their gifts that have kept Elinor and Jenny apart for the last twenty-five years. But as Stella struggles to cope with her disturbing clairvoyance, the unthinkable happens: One of her premonitions lands her father in jail, wrongly accused of homicide. The ordeal leads Stella to the grandmother she's never met and to Cake House, the Sparrow ancestral home full of talismans and fraught with history. Now three generations of estranged Sparrow women must come together to turn Stella's potential to ruin into a potential to redeem.
The Probable Future
by Alice Hoffman
Overall Review:
The Probable Future by Alice Hoffman was a New York Times Best Seller a few years ago. A novel that weaves the stories of three generations of women together and to their family history, it takes a close look at the dynamics of mother-daughter relationships, choices, and the future. Alice Hoffman's prose is elegant at times. However, the characters chronically behaved unwisely, which required substantial patience to wade through and prevented character-reader connection. Although the characters and situations failed appeal to me, I can envision them appealing to some readers. Ultimately, this novel struck me as a book that is a question of personal taste and preference.
Content Analysis:
Profanity/Language: 14 religious exclamations; 28 mild obscenities; 1 religious profanity; 7 derogatory names; 8 scatological words; 5 anatomical terms. 2 F-word derivatives.
Violence/Gore: Second hand report of drowning; baby's shoulder purposely broken to permit birth; second hand reports of death by natural means and illness; second hand report of characters shooting arrows and hitting another character while teasing; several reports of violence in the past in stories; report of a murder; premonitions of/involving violent death; character hit with oar resulting in severe injury; death by insect stings.
Sex/Nudity: A character is an unfaithful husband and there are many references throughout the book to affairs and sex with different individuals (no details); general reference to sex in dreams (no details); a character begins her period; it is implied that teenagers spent the night together/had sex; a married character publicly gropes a student at a party; teenagers make out; implied illegitimate child; implied affair of a character; a character recalls having sex under a table as a teenager (no details); a reference to having sex in the 8th grade; a character removes clothing and climbs into bed with another character, sex implied (no details); a character asks another character if they are sleeping with someone.
Mature Subject Matter:
Death, Illness, Murder, Divorce, Marriage Infidelity.
Alcohol / Drug Use:
Teenagers and adults have wine with dinner. Teenagers smoke. An adult recalls doing drugs when a teenager. Adults discuss teenager that is having problems with drugs.
Reviewed By Cindy