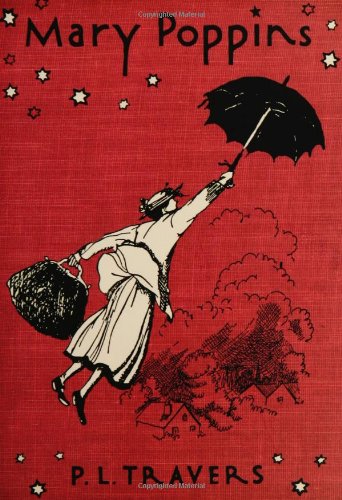 Publisher's Note:
From the moment Mary Poppins arrives at Number Seventeen Cherry-Tree Lane, everyday life at the Banks house is forever changed. This classic series tells the story of the world's most beloved nanny, who brings enchantment and excitement with her everywhere she goes. Featuring the charming original cover art by Mary Shepard, these new editions are sure to delight readers of all ages.

It all starts when Mary Poppins is blown by the east wind onto the doorstep of the Banks house. She becomes a most unusual nanny to Jane, Michael, and the twins. Who else but Mary Poppins can slide up banisters, pull an entire armchair out of an empty carpetbag, and make a dose of medicine taste like delicious lime-juice cordial? A day with Mary Poppins is a day of magic and make-believe come to life!
Mary Poppins
by P.L. Travers
Overall Review:
It is always fascinating to go to the origination point of literary characters that have become ubiquitous and iconic to a culture. Sometimes the current cultural perception is leagues away from the original and sometimes it is true to the original inception. Mary Poppins falls somewhere in-between. The original Mary Poppins was terse, curt, a bit conceited, and frankly, not that nice. In some ways it is surprising that her charges Jane and Michael mourned her departure at all. On the other hand, interesting things did happen when Mary Poppins was about so maybe that made it worth it. The other characters in the book were fairly accurately portrayed in the Disney version of Mary Poppins. Some of the adventures in the movie can be directly traced to the book.
The book does not have an over-arching storyline; it is a series of adventures or encounters that occur to the children and Mary Poppins. The first Mary Poppins book was written in 1933. The pacing and style might be a bit slow for modern audiences accustomed to the Harry Potter variety of magic.
Content Analysis:
Profanity/Language: None
Violence/Gore: Second hand report of a person being run over an omnibus; a boy pinches and kicks others.
Sex/Nudity: None
Mature Subject Matter:
***
Alcohol / Drug Use:
***
Reviewed By Cindy