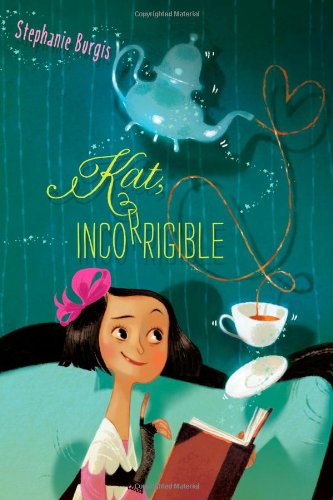 Publisher's Note:
Katherine Ann Stephenson has just discovered that she's inherited her mother's magical talents, and despite Stepmama's stern objections, she's determined to learn how to use them. But with her eldest sister Elissa's intended fiancÉ, the sinister Sir Neville, showing a dangerous interest in Kat's magical potential; her other sister, Angeline, wreaking romantic havoc with her own witchcraft; and a highwayman lurking in the forest, even Kat's reckless heroism will be tested to the upmost. If she can learn to control her new powers, will Kat be able to rescue her family and win her sisters their true love?
Kat, Incorrigible
by Stephanie Burgis
Overall Review:
What would you get if you took the wit and period setting from a Georgette Heyer novel, rewrote it to have a plucky twelve-year-old heroine, and added in a dash of magic? Kat, Incorrigible! I've been eager to get my hands on a copy of this book ever since I first read a description, and I was certainly not disappointed. Kat, Incorrigible had me hooked and unable to stop turning pages from the very beginning. I quickly fell in love, not only with sassy, spunky Kat herself, but also with her quirky and personality-filled family. Even Kat's Stepmama—who may very well fit into the "wicked stepmother" role—was hilariously well-drawn, and her attempts to rein in her wild stepfamily were delightful. By the time the side-splittingly funny climax was in full swing, I couldn't stop myself from laughing out loud every few pages. Once I had finished, I was glad that I already had the sequel checked out from the library as well, so that I didn't have to spend any time waiting to be reunited with Kat and her family!
Kat, Incorrigible is highly recommended to both preteens, teens and adults who like a well-crafted, witty, zany, magical read!
Content Analysis:
Profanity/Language: 21 religious exclamations. 2 mild obscenities.
Violence/Gore: Sisters tussle. A story is told of a man who supposedly murdered his wife. A girl tackles an adult. A story is told about a highwayman lurking in a nearby forest. A shot is fired into the air on three different occasions. A girl is threatened by a gun.
Sex/Nudity: Adult characters flirt mildlly, and one of the subplots has to do with adults developing relationships and becoming engaged.
Mature Subject Matter:
Death of parent
Alcohol / Drug Use:
Characters (including a child) drink wine. An adult character is described as often being intoxicated.
Reviewed By CindyB