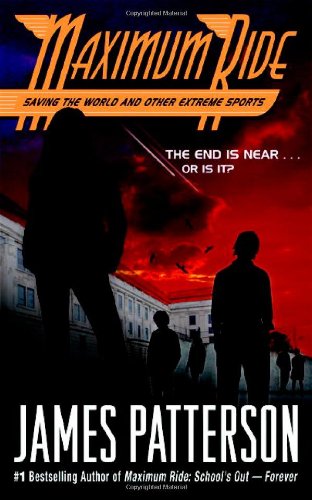 Publisher's Note:
In MAXIMUM RIDE: SAVING THE WORLD AND OTHER EXTREME SPORTS, the time has arrived for Max and her winged "Flock" to face their ultimate enemy and discover their original purpose: to defeat the takeover of "Re-evolution", a sinister experiment to re-engineer a select population into a scientifically superior master race...and to terminate the rest. Max, Fang, Iggy, Nudge, Gasman, and Angel have always worked together to defeat the forces working against them--but can they save the world when they are torn apart, living in hiding and captivity, halfway across the globe from one another?
Maximum Ride: Saving the World and Other Extreme Sports
by James Patterson
Overall Review:
Once again, James Patterson throws us into another exciting adventure of Maximum Ride and her winged cohorts. Like the two previous novels in this series, Saving the World and Other Extreme Sports is action-packed, twist-filled, and exciting. But unlike the previous novels, it takes the time to delve into the characters a bit more, and brings the reader closer to Max, the Flock, and even one or two of the villains. I was surprised to find that this book does have a couple of sad moments where the reader fully understands the horror and tragedy of the characters' lives. However, this emotional piece doesn't detract from the action and excitement of the novel, and readers will be left wanting to read the last five books!
Content Analysis:
Profanity/Language: 21 instances of religeous exclamations, 6 religous profanities, and 1 anatomical term.
Violence/Gore Rating: There are several fight scenes that include kicking, punching, biting, firearms, explosives, and nondetailed, but violent death. In addition to this, a character is electrocuted several times, and characters threaten each other with various threats of violence and death. One extended battle scene involving guns, death, and hand-to-hand combat. There is one scene where characters are bludgeoned with an iron bar resulting in severe injury.
Sex/Nudity: Two characters kiss once, and one caresses the spot between the other's wings. Several instances of characters thinking about past kisses.
Mature Subject Matter:
Human Experimentation, Orphans, Child Abuse/Neglect
Alcohol / Drug Use:
None
Reviewed By Jackson