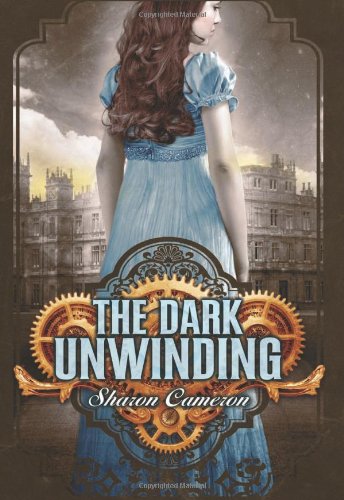 Publisher's Note:
A spine-tingling tale of steampunk and spies, intrigue and heart-racing romance!

When Katharine Tulman's inheritance is called into question by the rumor that her eccentric uncle is squandering away the family fortune, she is sent to his estate to have him committed to an asylum. But instead of a lunatic, Katharine discovers a genius inventor with his own set of rules, who employs a village of nine hundred people rescued from the workhouses of London.

Katharine is now torn between protecting her own inheritance and preserving the peculiar community she grows to care for deeply. And her choices are made even more complicated by a handsome apprentice, a secretive student, and fears for her own sanity.

As the mysteries of the estate begin to unravel, it is clear that not only is her uncle's world at stake, but also the state of England as Katharine knows it. With twists and turns at every corner, this heart-racing adventure will captivate readers with its intrigue, thrills, and romance.
This book was sent to Compass Book Ratings for review by Scholastic
The Dark Unwinding
by Sharon Cameron
Overall Review:
The Dark Unwinding is an unusual, atmospheric, sometimes creepy read with a whole lot of heart. I was engaged immediately by the book's unique premise—how many books can you say you've read in which the heroine is commissioned to declare a relative a lunatic?—and the story didn't disappoint. I enjoyed the quirky and captivating characters, as well as the fascinating setting of Stranwyne Estate. The touches of spookiness here and there throughout the narrative made The Dark Unwinding a perfect book to be reading during the month of October! Although at times I was confused by some of the book's events, and sometimes had a difficult time understanding the protagonist's motivations and feelings, overall I thoroughly enjoyed The Dark Unwinding and look forward to seeing more from Sharon Cameron in the future.
Content Analysis:
Profanity/Language: 20 religious exclamations. 1 scatalogical term.
(There are also a small handful of British profanities throughout the book, i.e. "bloody".)
Violence/Gore: A few scenes throughout the book are mildly creepy or spooky. A character dreams of being attacked. A character threatens another. A reference is made to a man falling and dying from a head injury. A pet is shot. A character is poisoned. A boy is thrown into a river. A character shoots a gun, causing an explosion (it's not clear whether any deaths resulted from this action). A character dies in a flood.
Sex/Nudity: Characters flirt, touch, and kiss on several occasions. A girl disrobes for a bath.
Mature Subject Matter:
Mentally challenged characters, emotional abuse, death.
Alcohol / Drug Use:
A reference is made to a man drinking wine. A girl is accused (wrongly) of being drunk on several occasions.
Reviewed By CindyB