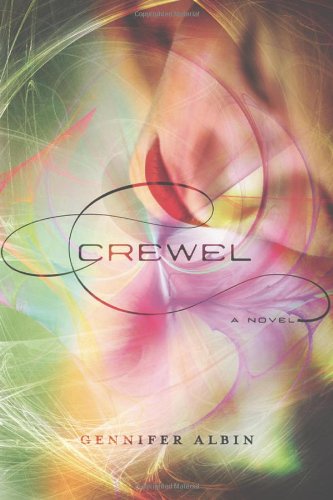 Publisher's Note:
What a tangled world she weaves...
For generations, Spinsters have been called by Arras's Manipulation Services to work the looms and determine what people eat, where they live, how many children they have, and even when they die. Gifted with the rare ability to weave time with matter, Adelice is exactly what the Guild is looking for, and in Arras, being chosen as a Spinster is everything a girl could want. It means privilege, eternal beauty, and being something other than a secretary. It also means the power to embroider the very fabric of life. But once you become a Spinster, there is no turning back. Now caught in a web of lies and intrigue, Adelice must decide who to trust: her kind mentor, Enora; the handsome and mysterious valet Jost; or the charismatic Guild ambassador Cormac Patton. They each have secrets, but Adelice is about to unravel the deadliest one of all, a sinister truth that could destroy reality as she knows it.
In a powerful and original debut about a world where the Guild decides everything, one extraordinary girl dares to defy the power of men and the boundaries of love.
This book was sent to Compass Book Ratings for review by Farrar Straus and Giroux
Crewel
by Gennifer Albin
Overall Review:
As much as I love dystopian fiction, I'm always surprised when a story like this provides me with something new. It's easy to feel like there's a limit to the potential societies we could create after an apocalypse, and I'm delighted to be reminded that there are much more creative minds than mine out there willing to write their ideas down.
Albin has woven her own unique story with breathtaking talent and grace. Reminiscent of The Giver and A Handmaid's Tale, but different enough to stand on its own, readers will love Adelice and her journey to free herself from a society that appears to be perfect.
I particularly appreciate Albin's ability to craft a story with mature themes that involves very little profanity, sex, or gore. When the reader does come upon those scenes, they have been treated with a light hand. We feel the impact without feeling violated.
I was slightly disappointed in the somewhat abrupt ending, but after consideration, I decided there really wasn't much more to say. I am happy to let the characters go and wish them well. I'm not really saying goodbye--they will remain with me for some time.
Content Analysis:
Profanity/Language: 2 mild obscenities; 2 derogatory names; 1 scatological word; 2 anatomical names.
Violence/Gore: A character is taken from her home against her will, restrained, and drugged; a character threatens to knee another character in the crotch; blood and a body bag are briefly seen on the floor; a character hits another character; a character has her fingers badly cut by fine wires; a character is found dead in a bathtub having committed suicide with few details.
Sex/Nudity: Two characters briefly kiss multiple times; a character is alleged to have an active sex life with multiple partners; a character discusses feeling naked due to revealing clothing; a character dresses and acts provocatively; a character is believed to be interested in another character sexually; a character refers to being taught about "the birds and the bees"; a character is questioned about sexual experiences; two characters briefly caress each others' faces, hair, backs, and necks; two women are briefly seen embracing romantically.
Mature Subject Matter:
Homosexual relationship with no details; war; death of family members.
Alcohol / Drug Use:
Infrequent under-age drinking; an adult character drinks alcohol frequently.
Reviewed By Leslie