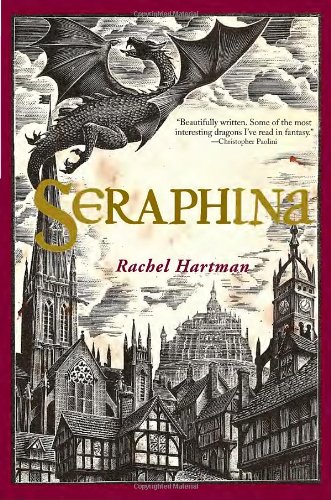 Publisher's Note:
In her New York Times bestselling debut, Rachel Hartman introduces mathematical dragons in an alternative-medieval world to fantasy and science-fiction readers of all ages. Eragon-author Christopher Paolini calls them, "Some of the most interesting dragons I've read in fantasy."

Four decades of peace have done little to ease the mistrust between humans and dragons in the kingdom of Goredd. Folding themselves into human shape, dragons attend court as ambassadors, and lend their rational, mathematical minds to universities as scholars and teachers. As the treaty's anniversary draws near, however, tensions are high.

Seraphina Dombegh has reason to fear both sides. An unusually gifted musician, she joins the court just as a member of the royal family is murdered—in suspiciously draconian fashion. Seraphina is drawn into the investigation, partnering with the captain of the Queen's Guard, the dangerously perceptive Prince Lucian Kiggs. While they begin to uncover hints of a sinister plot to destroy the peace, Seraphina struggles to protect her own secret, the secret behind her musical gift, one so terrible that its discovery could mean her very life.
Seraphina
by Rachel Hartman
Overall Review:
I love when a writer creates a world so richly detailed that it's easy to sink right into it every time I pick the book up—and difficult to put the book down again! That was my experience reading Rachel Hartman's lush and compelling debut novel, Seraphina. From the very first pages, I was drawn in by Seraphina's strong, prickly voice, her love of music, and by the richness of detail Hartman gave to Seraphina's world. The mystery at the heart of Seraphina kept me guessing right up until the end, but more than anything, it was the beauty of the story and the depth and reality of both the characters and setting that made it impossible for me to put this book down. Although there were brief moments throughout the story when a plot point seemed incongruous or needed a bit more explanation, I connected so deeply with the novel and its characters that those tiny anachronisms didn't detract much at all from my overall reading pleasure. The tone of voice and detailed magical world of Seraphina reminded me a little of some of my favorite authors from childhood, such as Robin McKinley or Sherwood Smith. I'll be eagerly awaiting Seraphina's sequel, and more work from Rachel Hartman in the future.
Seraphina is highly recommended to both teens and adults who are looking for a beautiful, complex story with characters who are easy to love.
Content Analysis:
Profanity/Language: 6 mild obscenities. 17 derogatory names (with the exception of a small handful, all of these are the same term, used in context, to refer to illegitimate children). 1 anatomical term.
Violence/Gore: A reference is made to a headless saint. Several references throughout the story are made to a character who (prior to the beginning of the story) was found murdered and decapitated (no real details are given and the murder is only ever referred to secondhand). On two occasions, a mob briefly attacks a character, but is called off before real harm can be done. A character is hit hard with a book and ends up with a bloody nose. A character is menaced by a dragon. A girl is threatened and cut with a knife to prove a point (no serious harm is done); later, she needs to be stitched and the stitching is described as painful but no real detail is given. Throughout the story, references are made to a past war, including to the mechanics of how the war was fought. An attempt is made at assassination. A character is killed in self-defense. A dragon battle takes place. A character is poisoned. A story is told of two murders, both taking place within a family (details are given in neither case).
Sex/Nudity: Characters flirt, dance together, kiss, and are attracted to each other. On several occasions, dragons assuming human forms are naked directly after transformation (no detail is given and in all cases, they are promptly clothed). A girl changes her dress behind a screen. A man changes his clothes while shielded by a cloak. Several sublte references are made to sex throughout the story; all of them are intended to be rude, but are very oblique and non-descriptive. Allusions are made to homosexuality, and minor characters are implied to be homosexual.
Mature Subject Matter:
Bigotry, war, illegitimacy, being different.
Alcohol / Drug Use:
Characters drink alcohol (it is not clear if some of them are minors).
Reviewed By CindyB