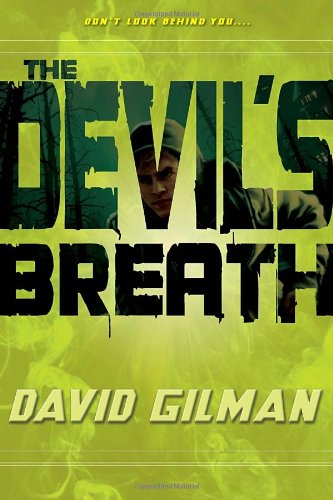 Publisher's Note:
WHEN AN ASSASSIN bursts from the shadows to try to kill him on the dark, windswept grounds of his boarding school in England, Max Gordon realizes his life is about to change forever.

After learning that his explorer father is missing, Max is determined to find him, no matter what dangers may lay in his path. A secret clue his father left behind leads Max to the inhospitable wilderness of Namibia, where he soon discovers a potentially massive ecological disaster masterminded by Shaka Chang, a very powerful and completely ruthless man—a man Max fears may have put his father in mortal danger. Max needs all the help he can get. Because whoever is behind his father's disappearance is determined to get rid of Max, too. For good.
This book was sent to Compass Book Ratings for review by Delacorte Books
The Devil's Breath
by David Gilman
Overall Review:
Max Gordon's exciting adventure into Africa is a sure page-turner for readers who love survival stories mixed with some mystery and a lot of intense action. While there is violence, the book reads like a PG-13 rated adventure movie. None of the scenes are extended, even though some of them do include pretty realistic detail.
Max's tenacity and determination to find his father are admirable qualities, and I enjoyed following him through Africa. It was fun to read about what it might be like to survive in a country that can take care of itself. There's a little bit of the supernatural thrown in, but I understand that it's almost impossible to escape that kind of experience when one visits a place where so many people live with traditions of magic.
There are solid friendships and loyalty expressed throughout the book, and characters with high moral standards. I didn't quite buy the plot twist at the end, but it did wrap everything up neatly, which was nice. If you like a good adventure with a message, you'll enjoy this book.
Content Analysis:
Profanity/Language: 6 religious exclamations; 10 mild obscenities.
Violence/Gore: A character plans various ways to kill another person; a character contemplates strangling a victim; a character threatens a victim; wild animals fight to the death; second hand report of person badly injured in fire; second hand report of person disappearing, leaving blood-smeared belongings; several characters engage in hand-to-hand combat with attackers, using various weapons, both lethal and non-lethal; a character is hunted by a group of men; several characters are attacked and wounded by wild animals; a character is subjected to a tribal ritual involving blood; a character has his skull smashed and survives; a character is caught in a flood; several characters are killed violently (in brief scenes) by machinery, firearms; wild animals, drowning, falling from great height; automobile accidents; a character is tortured using poison.
Sex/Nudity: A character kisses another character on the cheek; two characters flirt briefly.
Mature Subject Matter:
Death of a family member; divorce; desecrated graves.
Alcohol / Drug Use:
Alcohol use by adults.
Reviewed By Leslie