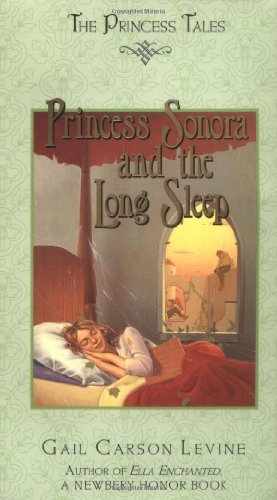 Publisher's Note:
A spiteful fairy. A beautiful princess. An outstretched finger. A spindle. A hundred-year snooze. A charming prince. A kiss. All the familiar ingredients.
But wait! Where did that extra prince come from? And those fairy gifts that were never there before? And what does a flock of balding sheep have to do with anything?
Gail Carson Levine has waved her magic wand over the old standby of "Sleeping Beauty" and presto! It reappears, transformed, sparkling and hilarious. Chuckles and giggles are guaranteed.
Princess Sonora and the Long Sleep
by Gail Carson Levine
Overall Review:
Gail Carson Levine provides a charming retelling of another fairy tale, Sleeping Beauty. The princess is given gifts by the fairies, as in the original story, but in this version, one of the fairies gives her a gift that makes most of the other characters have no desire to be around her. How she chooses to deal with it at one point turns out to be quite funny and she later becomes a legend due to this one particular gift. It's interesting how the gift is also a major deciding factor in who she'll marry. As always, Levine is clever in her writing, providing the reader with a few surprises and a little comedy. Anyone who likes a short fairy tale will enjoy this amusing little story and if you've enjoyed Levine's others fairy tale makeovers, you'll enjoy this one as well.
Content Analysis:
Profanity/Language: ***
Violence/Gore: One brief instance of a threat.
Sex/Nudity: Few (3) brief instances of kissing and holding hands.
Mature Subject Matter:
***
Alcohol / Drug Use:
***
Reviewed By Jenny