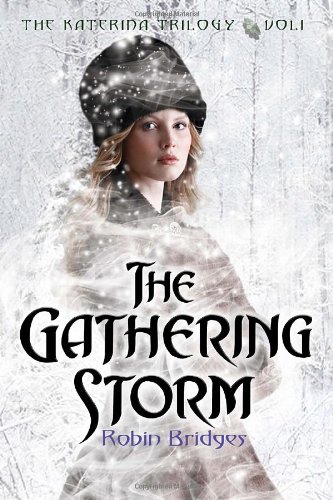 Publisher's Note:
St. Petersburg, Russia, 1888. As she attends a whirl of glittering balls, royal debutante Katerina Alexandrovna, Duchess of Oldenburg, tries to hide a dark secret: she can raise the dead. No one knows. Not her family. Not the girls at her finishing school. Not the tsar or anyone in her aristocratic circle. Katerina considers her talent a curse, not a gift. But when she uses her special skill to protect a member of the Imperial Family, she finds herself caught in a web of intrigue.

An evil presence is growing within Europe's royal bloodlines—and those aligned with the darkness threaten to topple the tsar. Suddenly Katerina's strength as a necromancer attracts attention from unwelcome sources . . . including two young men—George Alexandrovich, the tsar's standoffish middle son, who needs Katerina's help to safeguard Russia, even if he's repelled by her secret, and the dashing Prince Danilo, heir to the throne of Montenegro, to whom Katerina feels inexplicably drawn.
The time has come for Katerina to embrace her power, but which side will she choose—and to whom will she give her heart?
This book was sent to Compass Book Ratings for review by Delacorte Books
The Gathering Storm
by Robin Bridges
Overall Review:
For the lover of historical fiction and fantasy, this book is a winner! A historical setting is depicted as a magical society where vampires control too much, and the idea of power takes on new meaning. I loved the slightly dizzy feeling I got from trying to figure out what was real and what wasn't--until I got so caught up in the story that it all seemed real.
A vampire story naturally has a bit of gore in it, but Bridges' writing ability allowed me to sense the horror without seeing it in great detail. She does a masterful job of showing some pretty scary events while still making her writing accessible for younger readers.
The storytelling is fantastic, and the characters are believable and easy to love. Bridges does an especially good job with dialogue, and the conflict Katerina experiences throughout the book really had me believing. I'm very excited for the sequel!
Content Analysis:
Profanity/Language: 3 religious exclamations (29 religious exclamations in a foreign language); 6 scatalogical words.
Violence/Gore: Characters discuss blood-drinking habits of vampires; a character threatens to "feed upon" another character; a character describes another character's murder (no detail); an assassination attempt is spoken of; a murder/suicide is spoken of; a female character is handled roughly by a male character; a character is cut and blood is taken for a ritual; several characters are made ill with poison; a character is hurt when he falls from his horse; two characters fistfight; a character has a nightmare involving a vampire attack; a character has a miscarriage; two undead characters fight; a character is killed by a vampire; a character dies from an animal bite to the neck in an extended scene (2 pgs).
Sex/Nudity: Two characters kiss twice; hand-holding, embracing; a character is accused of being pregnant out of wedlock; a character is implied to have had sexual relations with another character.
Mature Subject Matter:
Death of a family member; teen pregnancy.
Alcohol / Drug Use:
Several characters drink wine socially.
Reviewed By Leslie