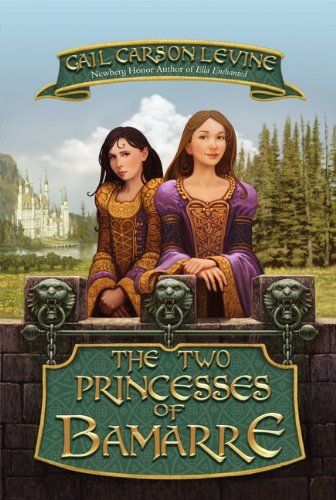 Publisher's Note:
When plague strikes Bamarre, Princess Addie must fulfill an ancient prophecy.
Brave and adventurous, Princess Meryl dreams of fighting dragons and protecting the kingdom of Bamarre. Shy and fearful, Princess Addie is content to stay within the safety of the castle walls. The one thing that the sisters share is their unwavering love for each other.
The tables are turned, however, when the Gray Death leaves Meryl fatally ill. To save her sister, meek Princess Addie must find the courage to set out on a dangerous quest filled with dragons, unknown magic, and death itself. Time is running out, and the sisters' lives—and the future of the kingdom of Bamarre—hang in the balance.
The Two Princesses of Bamarre
by Gail Carson Levine
Overall Review:
If you're expecting a typical princess story with The Two Princesses of Bamarre, you're in for a pleasant surprise. While it is a magical tale of bravery, cowardice, love and dragon slaying, the usual characters you expect to fill those roles are refreshingly different. The roles continue to change throughout the book adding twists and turns to this delightful story. When an unexpected character decides to step in and be the hero, some friends offer special gifts to help along the daunting journey. These enchanting tools are not only essential to the task at hand but also add a little entertainment for the reader in the process. It was quite enjoyable to see how the character dealt with obstacles along the way and the growth that occurred with each situation. This book is for anyone who enjoys a great adventure entwined with love and magic!
Content Analysis:
Profanity/Language: ***
Violence/Gore: Many (21) brief incidents including a threat, mention of dead animal bones, and fantasy violence of fighting and slaying dragons and other mythical creatures. Few (3) extended incidents of fantasy violence,
Sex/Nudity: Several (13) brief incidents including holding hands, kissing, hugging.
Mature Subject Matter:
Death of a family member, fatal illnesses.
Alcohol / Drug Use:
Very brief mention of an intoxicated character.
Reviewed By Jenny