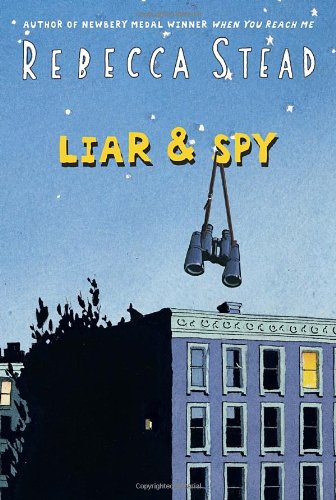 Publisher's Note:
The instant New York Times bestseller from the author of the Newbery Medal book When You Reach Me: a story about spies, games, and friendship. Seventh grader Georges moves into a Brooklyn apartment building and meets Safer, a twelve-year-old self-appointed spy. Georges becomes Safer's first spy recruit. His assignment? Tracking the mysterious Mr. X, who lives in the apartment upstairs. But as Safer becomes more demanding, Georges starts to wonder: what is a lie, and what is a game? How far is too far to go for your only friend? Like the dazzling When You Reach Me, Liar & Spy will keep readers guessing until the end.
Liar & Spy
by Rebecca Stead
Overall Review:
Liar & Spy, Rebecca Stead's third novel, is completely different from her first two books, but the writing is just as good as When You Reach Me. The dialogue is snappy and the interchanges are often quite amusing; there are some quirky characters (like the precocious Candy); the ending is uplifting and satisfying. However, the book is a bit different than the publisher's light description would lead one to believe. There is some spying, but there is an awful lot else going on in terms of problems, themes, and symbols. If a young reader picks up the book expecting a high action spy book, then they might be disappointed by the moderate pace and all too realistic problems the protagonist faces. Liar & Spy is an enjoyable read and Rebecca Stead continues to prove herself a quality writer.
Content Analysis:
Profanity/Language: 1 religious exclamation; 1 mild obscenity
Violence/Gore: A character purposely steps on another character's stomach; a character knocks another character over.
Sex/Nudity: 1 sentence refers to how a student at school has invented a "gay test"--if one finger is longer than another, then you are gay.
Mature Subject Matter:
Unemployment, illness, lying, bullying.
Alcohol / Drug Use:
***
Reviewed By Cindy