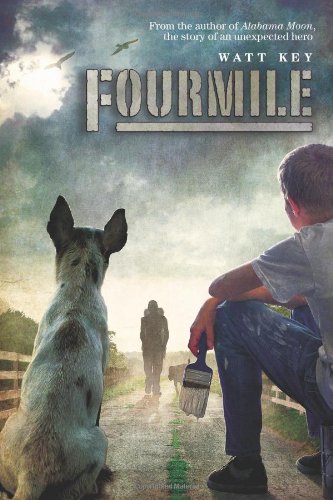 Publisher's Note:
Twelve-year-old Foster knows in his gut that Dax Ganey, the man dating his widowed mother, is a bad seed. Then a mysterious stranger arrives at their Alabama farm, a former Army Ranger in Iraq rambling across the country, and Foster believes he has found an ally against Dax. The stranger proves a fascinating mentor, full of wisdom and secrets. And Dax soon has reason to resent not just him and Foster but also Foster's mother. A spurned Dax will be a dangerous enemy, but Foster is increasingly aware that the stranger is just as dangerous, if not more so.From the author of one of the most highly acclaimed children's survival adventures of the last decade comes this tautly wound new novel reminiscent of classic westerns, about a boy caught in the middle of a clash that may turn out to be his own battle to fight.
This book was sent to Compass Book Ratings for review by Farrar Straus and Giroux
Fourmile
by Watt Key
Overall Review:
Watt Key's FOURMILE will remind readers of Jack Schaefer's SHANE but there are enough differences that this novel will stand on its own. The time period and setting are different; this allows for exploration of contemporary issues to which teenagers will readily relate. In addition, the relationships between the characters differ from Mr. Schaefer's novel. In FOURMILE Linda and her son, Foster, are struggling with the loss of a father and husband and just may lose each other as Dax Ganey, the man Foster's mother is dating, begins to force a wedge between Foster and his mother by his abusive behavior.
Mr. Key has a wonderful sense of drama that starts building when the stranger appears on the road by Fourmile farm. As you become familiar with the stranger, you want the relationship to grow between Foster and Gary and the mother. You want Gary to become their champion but something is not quite right. Not only do you, the reader, feel it, but Foster realizes it also. With all this emotional drama going on, the plotline is non-stop action. I was so caught up in the book that I had to finish it in one sitting.
Teenagers will like the characters because they portray real people who struggle with tough issues. Boys especially will like the action even though it does get violent at the climax. Teen readers may not like the conclusion but will appreciate the honesty of Mr Key's story and will find the ending satisfying.
Content Analysis:
Profanity/Language: 3 religious exclamations; 5 mild obscenities; 2 derogatory names; 4 anatomical terms.
Violence/Gore: A few incidents of verbal abuse between characters; an animal beaten and poisoned; a character covered in blood at a taxidermy shop; a few angry confrontations between male and female characters; a brief physical conflict between 2 characters ending in a bloody cut from wrist to elbow; an extended scene (10+ pages) containing a burned barn, two characters shot, one character abducted, beaten and nearly killed, and one character threating to shoot another character.
Sex/Nudity: None
Mature Subject Matter:
War, social conflicts, death, family crisis.
Alcohol / Drug Use:
***
Reviewed By Marilyn