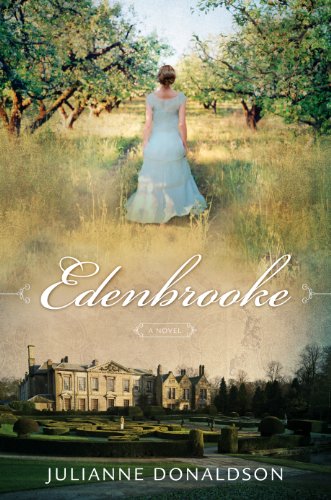 Publisher's Note:
Marianne Daventry will do anything to escape the boredom of Bath and the amorous attentions of an unwanted suitor. So when an invitation arrives from her twin sister, Cecily, to join her at a sprawling country estate, she jumps at the chance. Thinking she'll be able to relax and enjoy her beloved English countryside while her sister snags the handsome heir of Edenbrooke, Marianne finds that even the best laid plans can go awry. From a terrifying run-in with a highwayman to a seemingly harmless flirtation, Marianne finds herself embroiled in an unexpected adventure filled with enough romance and intrigue to keep her mind racing. Will Marianne be able to rein in her traitorous heart, or will a mysterious stranger sweep her off her feet? Fate had something other than a relaxing summer in mind when it sent Marianne to Edenbrooke.
This book was sent to Compass Book Ratings for review by Shadow Mountain
Edenbrooke
by Julianne Donaldson
Overall Review:
Irresistable and charming, I couldn't put Edenbrooke down. In fact, Edenbrooke made me so unabashedly happy that I read it three times! Kind-hearted Marianne and chivalrous Philip will flit and flirt their way into readers' hearts, all while they try to navigate love's many obstacles.
With Jane Austen and Georgette Heyer as her inspiration, first-time author Julianne Donaldson captures the absolute best of the Regency period. Quick pacing and less formal language allow readers both young and old to enjoy many a swoon-worthy scene. in addition to a perfectly chaste romance, Donaldson includes action, humor and a touching tribute to families. This delightful tale needs to be on everyone's "to-read" list!
Content Analysis:
Profanity/Language: None
Violence/Gore: Secondhand account of a family member's death; a character is dragged out of a carriage by her leg; a character is shot and receives an injury; two characters fight and receive minor injuries; two characters duel, and one receives a cut on his face.
Sex/Nudity: Numerous incidents of kissing, flirtatious behavior, and hand-holding; a character believes another is involved in conquests of a sexual nature; a character is abducted and the kidnapper to alludes wanting sexual activity to occur between the two (none actually occur). A few accounts of touching and caressing occur.
Mature Subject Matter:
Kidnapping
Alcohol / Drug Use:
***
Reviewed By Rachel