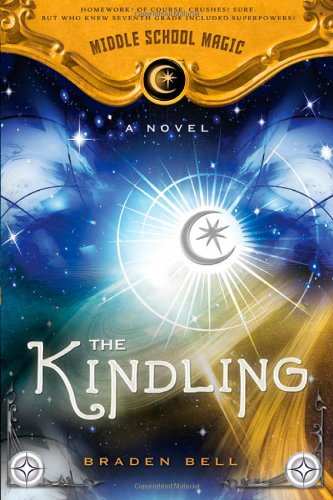 Publisher's Note:
All thirteen-year-old Connor Dell wants to do is pass pre-algebra, play lacrosse, and possibly kiss Melanie Stephens, but when a run-in with the school bully ignites strange powers inside him, Connor's normal teenage life goes up in flames. Now he'll need his new powers to defeat the Darkness that's coming for him. Fast-paced and original, this book's guaranteed to keep you guessing!
This book was sent to Compass Book Ratings for review by Cedar Fort
The Kindling
by Braden Bell
Overall Review:
I enjoy a good magical middle-school adventure story as much as the next reader, so I was excited to pick up The Kindling—and it didn't disappoint. With an interesting plot and unique system of magic, likeable characters, and plenty of heart-stopping moments, I found it to be a quick, fun read. My only complaint about The Kindling was that sometimes the pacing was uneven; there were moments where certain scenes seemed to drag on a little too long, and I found myself wishing for a little more variety. Still, The Kindling was a delightful read with plenty of adventure and heart. Highly recommended for preteens who enjoy a good magical thrill-ride!
Content Analysis:
Profanity/Language: None
There is no profanity, but there is a fair amount of slang ("freaking," "heck," etc.).
Violence/Gore: There are several incidents of magical mischief and mild violence. Certain animals in a city district are all murdered by magic. There are four magical battles in the book, each of them comprising several pages (the climax at the end is 20+ pages). A character is subjected to a kind of magical psychological torture, which is described only in brief detail. A character punches another character. A character slaps another character on the face twice. There are several reports of kidnappings throughout the story, but never any details. A character threatens another character.
Sex/Nudity: Adults kiss. Teenagers have crushes on each other and occasionally think about what it might be like to kiss each other.
Mature Subject Matter:
References to kidnapping and torture.
Alcohol / Drug Use:
***
Reviewed By CindyB