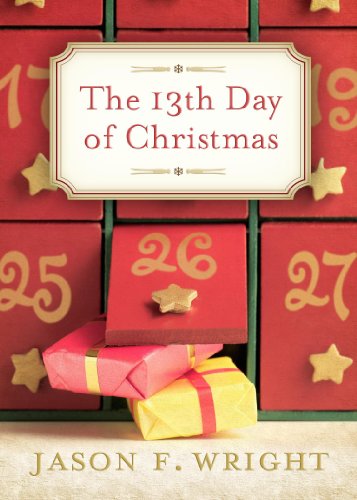 Publisher's Note:
Marva Ferguson has a very personal Christmas tradition that happens every December 26. As an aging widow, the tradition means more to her now than it ever has. Her newest neighbor, nine-year-old Charlee, loves Christmas too. But her family has fallen on hard times and things get worse when Charlee becomes critically ill. Then, on December 12, Charlee makes a wonderful discovery. A mysterious note is delivered that promises twelve days of gifts and stories that will reveal the truth behind the beloved Christmas carol The Twelve Days of Christmas. As the days go by, the gifts hint at a possible lost lyric. Was there once a 13th day of Christmas? And if so, could its magic change or save a life? If Marva knows something about the letters from the Elves, she s not telling. However, you don t live as long as Marva Ferguson and not have a secret or two including a whole lot of faith in your apron pocket. Filled with laughter, tenderness, and hope, The 13th Day of Christmas invites us to see how an old Christmas favorite can turn into a true Christmas miracle.
This book was sent to Compass Book Ratings for review by Shadow Mountain
The 13th Day of Christmas
by Jason F. Wright
Overall Review:
Almost all books use life and death to help people find deeper meaning in life. The same is true of this story. What was especially pleasurable was the phraseology of the author. Using clever wording, he was able to convey vivid imagery of the characters' emotions and physical bearings. One such example occurs when two characters are described--one carrying a bag and the other "carried only the heavy rocks of debt and worry." Descriptions such as these are liberally sprinkled throughout the story. Although not essential to the story, the "apronisms" provide an interesting and amusing distraction. ("Apronisms" are quotes found on a character's aprons.)
This is a book that many would enjoy re-reading each Christmas, but its lessons can be enjoyed year-round. The themes of this story could be a bit heavy for younger audiences, but the writing is easy enough to follow and the counsel is applicable to people of all ages. A story with a nice message to help us all remember what is most important.
Content Analysis:
Profanity/Language: None
Violence/Gore: Character receives a head injury from a fall; character reported to have pushed someone.
Sex/Nudity: Character jokes that he met another when she was taking off her clothes.
Mature Subject Matter:
Deaths of child, spouse and friend, terminal illness, financial struggles.
Alcohol / Drug Use:
***
Reviewed By Susan