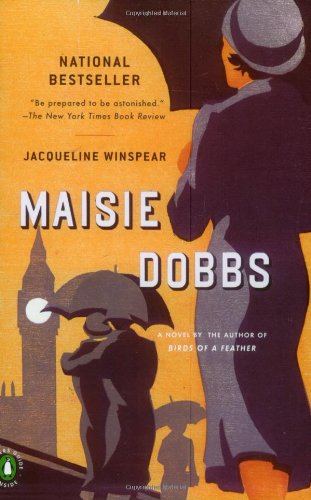 Publisher's Note:
Hailed by NPR's Fresh Air as part Testament of Youth, part Dorothy Sayers, and part Upstairs, Downstairs, this astonishing debut has already won fans from coast to coast and is poised to add Maisie Dobbs to the ranks of literature's favorite sleuths.
Maisie Dobbs isn't just any young housemaid. Through her own natural intelligence—and the patronage of her benevolent employers—she works her way into college at Cambridge. When World War I breaks out, Maisie goes to the front as a nurse. It is there that she learns that coincidences are meaningful and the truth elusive. After the War, Maisie sets up on her own as a private investigator. But her very first assignment, seemingly an ordinary infidelity case, soon reveals a much deeper, darker web of secrets, which will force Maisie to revisit the horrors of the Great War and the love she left behind.
Maisie Dobbs
by Jacqueline Winspear
Overall Review:
I have never met another character like Maisie Dobbs. She's kind, compassionate, hard-working, brilliant, family-oriented and just so darn likable! Yet with a mysteriously complicated past, Maisie makes for an intriguing heroine that readers will be eager to learn more about. In this first novel of the nine-book series, Winspear creates a deep and poignant tale that is much more than your typical "mystery novel". Danger, intrigue and romance fill many a page, and there's even a few scenes reminiscent of PBS's Downton Abbey. With easy readability, rich details and authentic British accents, Maisie Dobbs is a fantastic series starter.
Content Analysis:
Language/Profanity: 19 religious exclamations, 6 mild obscenities, 1 derogatory name
Violence/Gore: Secondhand reports of violence from a character's memories of World War I; secondhand report of a man being shot; secondhand report of two characters' deaths; an incident of an attempted hanging; non-detailed scenes of violent death involving suicide, explosions and working as a nurse.
Sex/Nudity: Several incidents of kissing
Mature Subject Matter:
Death of a family member; death of a friend; war; murder; socioeconomic conflict; mental health issues.
Alcohol / Drug Use:
A few characters smoke.
Reviewed By Rachel