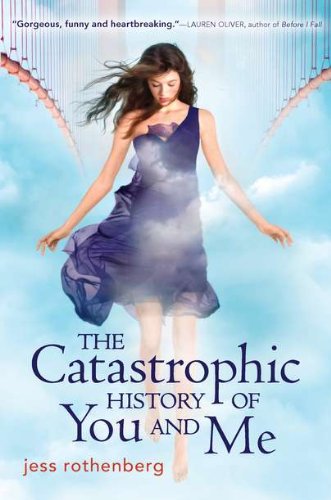 Publisher's Note:
Brie's life ends at sixteen: Her boyfriend tells her he doesn't love her, and the news breaks her heart--literally.

But now that she's D&G (dead and gone), Brie is about to discover that love is way more complicated than she ever imagined. Back in Half Moon Bay, her family has begun to unravel. Her best friend has been keeping a secret about Jacob, the boy Brie loved and lost--and the truth behind his shattering betrayal. And then there's Patrick, Brie's mysterious new guide and resident Lost Soul...who just might hold the key to her forever after.

With Patrick's help, Brie will have to pass through the five stages of grief before she's ready to move on. But how do you begin again, when your heart is still in pieces?
The Catastrophic History of You and Me
by Jess Rothenberg
Overall Review:
Brie's voice in The Catastrophic History of You and Me is so alive the reader almost forgets that Brie is really dead and that she is just a character in a book. Wasting no time, author Jess Rothenberg starts with a clever premise: death by a broken heart--literally. Couple that with a sort of limbo that is a pizza parlor (yes, literally) and chapter titles extracted from songs, and you start off with an entertaining and engaging read. However, ever so subtly, the author alters tack, introducing some substance; the reader arrives at the end with a much different book in tone than they started with.
The "fantasy" portion of the story did have gaps in logic that Rothenberg didn't close up and some character motivations that seemed unsupported. Nevertheless, The Catastrophic History of You and Me provides more than the typical teenage storyline and touches on not only love, but also life and loss.
Content Analysis:
Profanity/Language: 45 Religious exclamations, 41 mild obscenities, 1 religious profanity, 4 derogatory names, 10 scatological words, 1 anatomical term.
Violence/Gore: Mention of autopsy to determine cause of death; a character purposely damages a car; a character purposely causes a bike crash (no serious injury); a character purposely causes a fall resulting in serious injury; a character is threatened with a knife; a character threatens to commit suicide; report of a motorcycle accident; report of a suicide; description of horrible scars on a character's body; scene involving dead and dying and description of blood.
Sex/Nudity: Several incidences of flirtatious behavior and boy-crazy talk; characters like other characters or attracted to them; characters kiss or are seen kissing; reference to "cleavage squeeze", "boob talk", "sex talk" and "boob-tastic"; a married character has an affair (no details provided); reference to having menstrual period; reference to Playboy channel; a character accidentally loses clothing and is naked (non-sexual); character leaves note saying they are gay; discussion about a character being gay; a teenage girl loses virginity to a teenage boy and talks to friend about it (2-3 pages).
Mature Subject Matter:
Death, Suicide, Homosexuality, Marriage Infidelity, Revenge
Alcohol / Drug Use:
***
Reviewed By Cindy