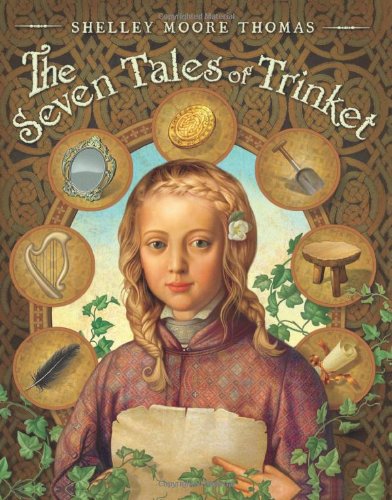 Publisher's Note:
Guided by a tattered map, accompanied by Thomas the Pig Boy, and inspired by the storyteller's blood that thrums through her veins, eleven-year-old Trinket searches for the seven stories she needs to become a bard like her father, who disappeared years before. She befriends a fortune-telling gypsy girl; returns a child stolen by the selkies to his true mother; confronts a banshee and receives a message from a ghost; helps a village girl outwit—and out-dance—the Faerie Queen; travels beyond the grave to battle a dastardly undead Highwayman; and meets a hound so loyal he fights a wolf to the death to protect the baby prince left in his charge. All fine material for six tales, but it is the seventh tale, in which Trinket learns her father's true fate, that changes her life forever.
This book was sent to Compass Book Ratings for review by Farrar Straus and Giroux
The Seven Tales of Trinket
by Shelly Moore Thomas
Overall Review:
THE SEVEN TALES OF TRINKET by Shelley Moore Thomas is fascinating in many ways. Although it is not stated, the story will remind the reader of medieval times. The heroine, Trinket, is orphaned at eleven. During the medieval period, orphans were often on their own or married as early as twelve years of age. Because Trinket believes her father is still alive, she decides to search for him and to collect tales as she goes along. In those times people believed in folklore and superstitions which become the basis for the tales. Trinket would need a protector such as her friend Thomas because the roads were dangerous to travel and many townspeople never left their towns for that reason. Because Trinket and Thomas are actually reflecting historical details, the story seems all the more real.
So Trinket and Thomas begin their journey with each new tale centering around the characters they meet and with whom they become involved. The tales drive the action of the plot. Some of the characters appear in later tales. Each tale has a symbol attached which can be seen as each written tale begins and on the cover of the book. Some of these symbols reoccur in other tales also. Ms. Thomas skillfully weaves the characters and the symbols to create a unified and continuous flow. Otherwise it would be just seven stories with little connection. Needless to say, Trinket and Thomas have to deal with gypsies, banshees, ghosts, a faerie queen, and selkies so they find themselves in many difficult situations.
Young adult readers will enjoy the challenging and sometimes scary predicaments that Trinket and Thomas face. They will hope with each tale that Trinket is closer to finding out if her father lives. They will appreciate Trinket's and Thomas's courage and cleverness in solving each tale's challenge as heroes in a fantasy are expected to do.
Content Analysis:
Profanity/Language: None
Violence/Gore: An animal is left to watch over a baby, but to all appearances the animal attacks the child instead because there is blood on the animal; Lying some distance away is another animal, unmoving and bleeding.
Sex/Nudity: None
Mature Subject Matter:
***
Alcohol / Drug Use:
***
Reviewed By Marilyn