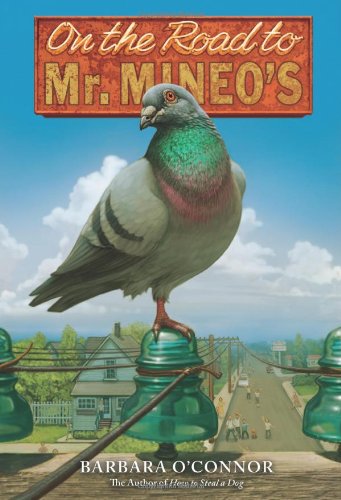 Publisher's Note:
Summer days drift by slowly in Meadville, South Carolina--that is, until Sherman the one-legged pigeon flies into town and causes a ruckus. First Stella, who's been begging for a dog, spots him on top of a garage roof and decides she wants him for a pet. Then there's Ethel and Amos, an old couple who sees the pigeon in their barn keeping company with a little brown dog that barks all night. The pigeon lands smack in the middle of Mutt Raynard's head, but he's the town liar, so no one believes him. And when Stella's brother Levi and his scabby-kneed, germ-infested friends notice the pigeon, they join the chase, too. Meanwhile, across town, Mr. Mineo has one less homing pigeon than he used to...
Barbara O'Connor has delivered another ingeniously crafted story full of southern charm, kid-sized adventures, and quirky, unforgettable characters.
This book was sent to Compass Book Ratings for review by Farrar Straus and Giroux
On the Road to Mr. Mineo's
by Barbara O'Connor
Overall Review:
As I began reading this book, I knew Barbara O'Connor had to be from the South because she writes with a knowing tone and sets the mood of one who has experienced living in a small Southern town. From the very first chapter her words slowly suck you into a slower pace and you feel the heat rising up around you. Soon Meadville is the most ordinary small town in South Carolina and you think you are going to cook in your own juices. Then the characters start appearing. Strangely, you don't even think about the heat any more.
There are many characters in this book; some are funny, lonely, fearful, unhappy, and even downright mean. No matter their differences, they are all connected to a one-legged pigeon that touches each of them personally. So the chase is on to see who will catch the pigeon. Ms. O'Connor skillfully brings them all together on the road to Mr. Mineo's for the climax.
In many children's stories, the author tries to construct a happy resolution for each character. This is not one of those stories, but it does showcase how differing individuals can come together and share a meaningful experience and go away the better for it.
I loved the pace of this book and the sense of a tale well told, but the characters' shared experience at the end was the most meaningful and satisfying.
Content Analysis:
Profanity/Language: None
Violence/Gore: Siblings yell and punch one another during a fight over an animal, no blood or resulting injury is ever mentioned.
Sex/Nudity: None
Mature Subject Matter:
***
Alcohol / Drug Use:
***
Reviewed By Marilyn