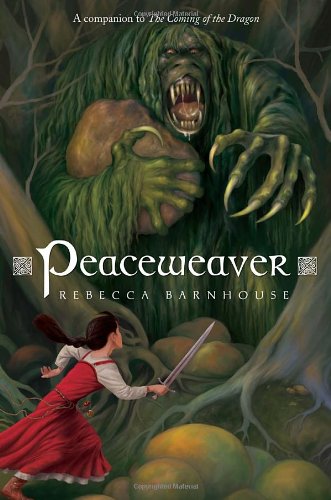 Publisher's Note:
This is historical fantasy at its best. Sixteen-year-old Hild has always been a favorite of her uncle, king of the Shylfings. So when she protects her cousin the crown prince from a murderous traitor, she expects the king to be grateful. Instead, she is unjustly accused of treachery herself.

As punishment, her uncle sends Hild far away to the heir of the enemy king, Beowulf, to try to weave peace between the two kingdoms. She must leave her home and everyone she loves. On the long and perilous journey, Hild soon discovers that fatigue and rough terrain are the least of her worries. Something is following her and her small band of guards—some kind of foul creature that tales say lurks in the fens. Will Hild have to face the monster? Or does it offer her the perfect chance to escape the destiny she never chose?

Rebecca Barnhouse's companion to The Coming of the Dragon is sure to appeal to younger fans of Tamora Pierce, Esther Friesner, and Shannon Hale.
This book was sent to Compass Book Ratings for review by Random House
Peaceweaver
by Rebecca Barnhouse
Overall Review:
In Peaceweaver, Rebecca Barnhouse creates a rich, vividly-imagined historical setting that I found easy to lose myself in. I loved immersing myself in the sparse, formal landscape of the Shylfings and the Geats; Barnhouse's prose is simple and evocative, bringing her settings and characters alive. Hild is a strong, complex character, and one I found it easy to relate to—and as a long-time fan of the classic epic Beowulf, I felt like Peaceweaver was a perfect homage. Although Peaceweaver is a companion novel to Barnhouse's The Coming of the Dragon, it works well as a stand-alone novel. My only complaint about the book was that I felt the ending was too abrupt, and I would have liked learning a little more about how things wrapped up!
Peaceweaver is the perfect read for teens and adults who love a good, well-fleshed out historical fiction, with a little myth and adventure thrown in!
Content Analysis:
Profanity/Language:
***
Violence/Gore: On two occasions, a character kills an assassin to protect a friend (both scenes are brief). On three occasions, a character or several characters fight a monster; brief scenes of blood are described, and in one instance there is a brief description of animal gore. A war is planned. A brief battle takes place.
Sex/Nudity: Characters touch hands and feel chemistry.
Mature Subject Matter:
Killing in self-defense
Alcohol / Drug Use:
Characters drink mead.
Reviewed By CindyB