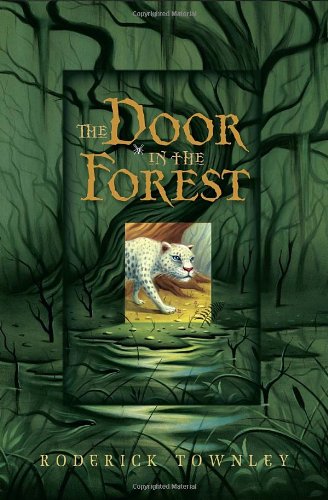 Publisher's Note:
At the mid point of three towns, in the center of three streams, in the heart of a forest, lies a mysterious island. Encircled by quicksand and sewn shut by vines, it is impenetrable to all but the poisonous snakes patrolling its waters. But Daniel is determined to get there, along with his friend Emily. Emily is a bit mysterious herself. A girl who seems to know more than she can say, whose mother was taken away by government troops, and whose eccentric grandmother reads the future in her bubble bath. Enter the soldiers. Their menacing commander is terribly interested in sleepy little Everwood. Is he searching for something? A treasure map? The island? The girl? Sooner or later, we all must step through the door in the forest.
This book was sent to Compass Book Ratings for review by Random House Children's Books
The Door in the Forest
by Roderick Townley
Overall Review:
The Door in the Forest by Roderick Townley opens with a bewitching description of a curious and alluring island, promising the kind of adventure that delights children ages 9-12. Interestingly, while Townley clearly delineates the time as 1923, he is vague regarding the actual location of the story and leaves unexplained several elements he introduces, such as the "Uncertainties". Although troubling to older readers, this will not concern the targeted age group because those details are secondary to the adventure. The straight-forward level of peril, pacing, character development, and conflict resolution are spot on for younger readers. Written in three parts, Part III finishes strongly with one surprise and a few deft touches. A favorite element was the snakes with heads in the image of their victims. With co-protagonists, Daniel and Emily, this book is equally accessible to boys and girls, and who wouldn't want to journey to a magical island?
Content Analysis:
Violence consists of characters perishing in quicksand, by gunfire, and by poisonous snakes. There is also shooting, reported deaths, some tank gunfire, a riot and uprising. Non-graphic descriptions of the events are provided.
The use of mild, religious profanities was noted eight times. A derogatory name is used twice in regards to the antagonist. Technically while not profanity, it did seem harsh and out of character for a book firmly aimed at the 9-12 age bracket, especially when the term was used by the young, female protagonist.
No sexual content noted.
Mature Subject Matter:
No mature themes, although the death of a character's parent is referred to.
Alcohol / Drug Use:
***
Reviewed By Cindy