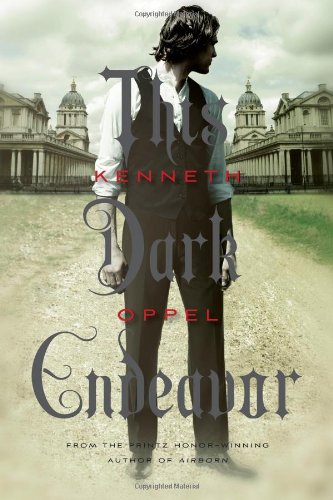 Publisher's Note:
Bravery, danger, and intense passion. How does obsession begin?
Victor and Konrad are the twin brothers Frankenstein. They are nearly inseparable. Growing up, their lives are filled with imaginary adventures...until the day their adventures turn all too real.
They stumble upon the Dark Library and discover secret books of alchemy and ancient remedies. Father forbids them from ever entering the room again, but when Konrad falls gravely ill, Victor is drawn back to the Dark Library where he uncovers an ancient formula for the Elixir of Life. Victor, along with his beautiful cousin Elizabeth and friend Henry, immediately set out to find a man who was once known for his alchemical works to help them create the formula.
Determined to save Konrad, the three friends scale the highest trees in Strumwald, dive into the deepest lakes, and even make an unthinkable sacrifice in their quest for the elixir's ingredients. And as if their task was not complicated enough, a new realm of danger—that of illicit love—threatens to end the ordeal in tragedy.
This Dark Endeavor: The Apprenticeship of Victor Frankenstein
by Kenneth Oppel
Overall Review:
This Dark Endeavor is the first book in the planned The Dark Endeavor Chronicles Series by Kenneth Oppel. This book has been written as a prequel to Mary Shelley's Frankenstein, incorporating younger versions of several of the original characters. Oppel's take on the beginnings of the Frankenstein tale reads fluidly without any prior knowledge of Shelley's story; however, his artistry in developing an original backstory will be most appreciated if the reader has read Frankenstein. Told in first person by sixteen year old Victor Frankenstein, the narrator is strikingly honest is revealing all his passions and motives--no matter how dark they are. Victor is consumed by his passions and this lures the reader into the ominous tale. Kenneth Oppel again delivers a first rate young adult adventure, but with a dark side. Gothic, Passionate, Raw!
Content Analysis:
Profanity/Language: 3 religious exclamations; 7 mild obscenities.
Violence/Gore: Scene in a play involving a monster and swordplay; character falls and injures ankle; report of discovery of an old corpse; character dreams of a swordfight and killing someone; leeches are used for medical purposes; report of death by illness; report of a character being thrown from city walls, resulting in severe injury; report of past observation of dissection of a cadaver in an anatomy class; possible hallucination involving blood; blood samples taken for medical purposes; human character bites an animal in defense; extended scene in which characters fight off animal attack; an animal kills another animal; characters push and struggle; animal bites a character and an animal is stabbed with a sword; a character slaps another character; intense, extended scene involving the amputation of a character's digits with brief description and mention of blood; extended fight scene among characters involving clubbing, acid, a fire poker, struggling, punching, tackling, etc.; an animal injures a human; an animal is intentional slaughtered and dissected, with descriptions involving blood.
Sex/Nudity: Characters are attracted to one another; characters profess their love for each other; a character caresses another character's cheek; brief scene of passionate kissing; a character forces a kiss on another character; characters kiss; a sleepwalker crawls into bed with a character of the opposite sex (nothing sexual occurs); characters have feelings of passion and desire.
Mature Subject Matter:
Death, passion, alchemy
Alcohol / Drug Use:
Alcohol is given to a minor before medical procedures.
Reviewed By Cindy