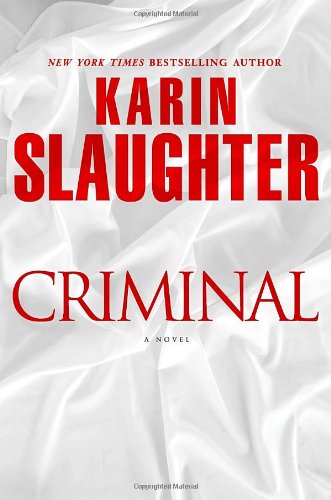 Publisher's Note:
Karin Slaughter's new novel is an epic tale of love, loyalty, and murder that encompasses forty years, two chillingly similar murder cases, and a good man's deepest secrets.

Will Trent is a brilliant agent with the Georgia Bureau of Investigation. Newly in love, he is beginning to put a difficult past behind him. Then a local college student goes missing, and Will is inexplicably kept off the case by his supervisor and mentor, deputy director Amanda Wagner. Will cannot fathom Amanda's motivation until the two of them literally collide in an abandoned orphanage they have both been drawn to for different reasons. Decades before—when Will's father was imprisoned for murder—this was his home. . . .

Flash back nearly forty years. In the summer Will Trent was born, Amanda Wagner is going to college, making Sunday dinners for her father, taking her first steps in the boys' club that is the Atlanta Police Department. One of her first cases is to investigate a brutal crime in one of the city's worst neighborhoods. Amanda and her partner, Evelyn, are the only ones who seem to care if an arrest is ever made.

Now the case that launched Amanda's career has suddenly come back to life, intertwined with the long-held mystery of Will's birth and parentage. And these two dauntless investigators will each need to face down demons from the past if they are to prevent an even greater terror from being unleashed.

A masterpiece of character, atmosphere, and riveting suspense, Criminal is the most powerful and moving novel yet from one of our most gifted storytellers at work today.
This book was sent to Compass Book Ratings for review by Random House
Criminal: A Novel
by Karin Slaughter
Overall Review:
Criminal: A Novel is Karin Slaughter's dark crime novel. Criminal is interesting in many ways. First, the story is told during two different time periods--the story switches back and forth between 1974 and the present day. Although the two timelines are separated by 40 years the story is not fractured. By involving two different time periods the dimensions of her characters are very deep. The reader not only understands what the character is about but you see how they came to be that way. Slaughter also has a way of describing situations that is quite picturesque. Not always a pretty picture, but details are plentiful and scenes are easily pictured in the readers mind. The story's character development is not only deep, but the characters are all intertwined in relationships one might not expect; this makes the reader curious about how things are going to turn out. The conclusion of the story wraps up nicely and is very satisfying.
Slaughter's gift for description offers a very realistic story but some of her subject matter is very disturbing. Her description of certain characters decent into the lowest dregs of society is graphic. The lifestyles of prostitutes come alive with her words and those lifestyles are not pretty.
Overall the book is compelling due to the realism but is not for everyone. For those who enjoy crime dramas, its creative timeline and intertwined characters make for an entertaining read. I would rate it higher if not for the graphic nature of some of the material.
Content Analysis:
Language/Profanity: 17 Religious exclamations; 20 mild obscenities; 9 religious profanities; 56 derogatory names; 22 scatological words; 26 anatomical terms; 1 offensive hand gesture, 21 f-word derivatives.
Violence/Gore: Serial killer/rapist tortures and murders prostitutes by sewing (needle and thread through skin) them down on a bed thus immobilizing them and then rapes and tortures them to death, all scenes are detailed and graphic; killer also sews eyes and mouths shut; graphic descriptions of victims at crime scenes; graphic details of autopsies of victims; characters are strangled to unconsciousness; in autopsy of a victim there is graphic evidence of "at-home" abortion; character is beaten by police; character is hit in neck causing bleeding and choking; character is wounded by gun fire; prostitute is beaten, nose and teeth broken; reference to child in foster care and is abused, cigarette burns, beaten, neglected; character is killed with large knife to chest; character relates revenge fantasies involving shooting, knifing, or overdosing other characters.
Sex/Nudity: Throughout the book there are extended scenes about the life story of prostitutes and how they descended into complete moral decay. The prostitutes start underage. Details include starting and getting addicted to drugs, stealing from and lying to parents/authorities, sex for drugs, running away from home, violence associated with street life, sexual perversion, sex mixed with violence. Several sex acts are implied others are detailed and explicit.
Mature Subject Matter:
Prostitution, drug addiction, rape, murder, torture, kidnapping, poverty, racism, sexism, child abuse, government corruption, death of family member, organized crime, alcoholism, abortion, mental illness.
Alcohol / Drug Use:
Descriptive use, by adults and minors, of many illegal drugs to the point of addiction. Drugs included: heroin, mariiuana, methamphetamines, and prescription medication.
Reviewed By Matthew