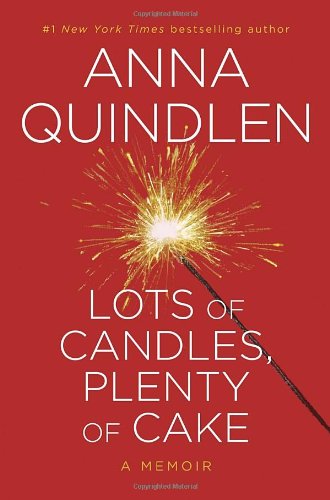 Publisher's Note:
In this irresistible memoir, the New York Times bestselling author and winner of the Pulitzer Prize Anna Quindlen writes about looking back and ahead—and celebrating it all—as she considers marriage, girlfriends, our mothers, faith, loss, all the stuff in our closets, and more.

As she did in her beloved New York Times columns, and in A Short Guide to a Happy Life, Quindlen says for us here what we may wish we could have said ourselves. Using her past, present, and future to explore what matters most to women at different ages, Quindlen talks about

Marriage: "A safety net of small white lies can be the bedrock of a successful marriage. You wouldn't believe how cheaply I can do a kitchen renovation."

Girlfriends: "Ask any woman how she makes it through the day, and she may mention her calendar, her to-do lists, her babysitter. But if you push her on how she really makes it through her day, she will mention her girlfriends. Sometimes I will see a photo of an actress in an unflattering dress or a blouse too young for her or with a heavy-handed makeup job, and I mutter, 'She must not have any girlfriends.' "

Stuff: "Here's what it comes down to, really: there is now so much stuff in my head, so many years, so many memories, that it's taken the place of primacy away from the things in the bedrooms, on the porch. My doctor says that, contrary to conventional wisdom, she doesn't believe our memories flag because of a drop in estrogen but because of how crowded it is in the drawers of our minds. Between the stuff at work and the stuff at home, the appointments and the news and the gossip and the rest, the past and the present and the plans for the future, the filing cabinets in our heads are not only full, they're overflowing."

Our bodies: "I've finally recognized my body for what it is: a personality-delivery system, designed expressly to carry my character from place to place, now and in the years to come. It's like a car, and while I like a red convertible or even a Bentley as well as the next person, what I really need are four tires and an engine."

Parenting: "Being a parent is not transactional. We do not get what we give. It is the ultimate pay-it-forward endeavor: We are good parents not so they will be loving enough to stay with us but so they will be strong enough to leave us."

From childhood memories to manic motherhood to middle age, Quindlen uses the events of her own life to illuminate our own. Along with the downsides of age, she says, can come wisdom, a perspective on life that makes it satisfying and even joyful. Candid, funny, moving, Lots of Candles, Plenty of Cake is filled with the sharp insights and revealing observations that have long confirmed Quindlen's status as America's laureate of real life.
This book was sent to Compass Book Ratings for review by Random House
Lots of Candles, Plenty of Cake
by Anna Quindlen
Overall Review:
Anna Quindlen covers much of what makes up our everyday lives between the covers of Lots of Candles, Plenty of Cake. She points out that what we keep on our refrigerator denotes what decade of our lives we are in, from preschool snack schedules hung with cartoon magnets in our 30's to our children's business cards and father's cardiologist's phone number later in life. She speaks of finding connections with her readers throughout her writing career, especially when she has written about subjects like motherhood and loss of a loved one.
For this reason, I found many little gems as I read Quindlen's words, although she is a woman of my mother's generation and not my own. She covers subjects like marriage, exercise, solitude, and success with a strong voice that is all her own. And yet, I found that her insights often resonated with me, and even if they did not, they got me thinking. I enjoy a book that gets me thinking.
I enjoyed this memoir, although I found Quindlen's depiction of a woman's life before her generation slightly narrow. I would agree that the Women's Movement changed many things, but I also know that both of my grandmothers were, at one time, working moms--a telling sign that not all women of their era were left with no employment options. My maternal grandmother was even a deputy sheriff.
This book would be a great read if you are a woman in the midst of watching her children move out into the world. Or, if you are considering retirement, but just can't seem to let go. There is humor here and an empathetic author. Even if you are not quite there yet, it doesn't hurt to learn from someone with experience about what lies ahead.
Content Analysis:
Profanity/Language: 1 mild obscenity; 1 derogatory name; 1 F-word derivative.
Violence/Gore: None
Sex/Nudity: Report of o teenager having "safe sex;" a couple of brief sexual references.
Mature Subject Matter:
Death of a parent, abortion.
Alcohol / Drug Use:
Smoking pot is briefly mentioned; one incident is described that includes drinking alcohol at a New Year's Eve party
Reviewed By Ambra