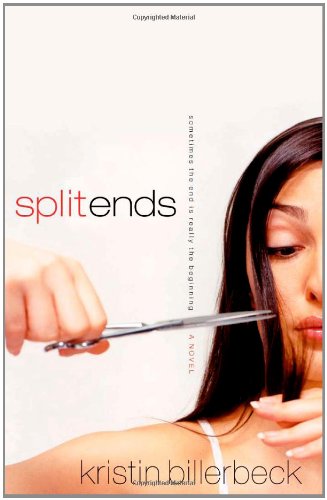 Publisher's Note:
She's armed—with hot irons, sharp shears, and a flair for color.
She's dangerous—truly bad news for bad hair.
And she's going to do whatever it takes to make a place for herself in the exclusive Beverly Hills salon.
Even if that means sweeping hair, emptying trash, scrubbing dummy heads, and making soy lattes for the stars that come to Yoshi's salon.
Even if it means hiding the fact that she's not really an up-and-comer from New York, but a drunk's daughter from small-town Wyoming.
Even if it means igoring her attraction to a tall, dark stranger in a fedora who just stepped off the elevator . . . and into her heart.
But can a talented hairdresser from the sticks really make it in image-obsessed L.A.? And can she ever find true love and real success in a town that wrote the book on fake?
Split Ends
by Kristin Billerbeck
Overall Review:
Most of this book seems to be written on a superficial level, but as the story and characters develop, things get deeper and more serious. Especially appealing was the way in which the main character, Sarah Claire, evolves. She comes across as a star-struck country bumpkin, but as the story progresses, little insights into her thoughts show she has much greater depth. The author really has a fresh way of describing the varied personalities in her book. Billerbeck manages to create an almost sympathetic mood for all of her characters. This is really quite a feat given that readers feel inclined to dislike or disdain perceived personality flaws. Although some parts of the book are a bit slower than others, the pacing is pretty steady and keeps the reader interested up until the final page. Those seeking to contemplate more than just a simple story will find much of value here along with a few laughs.
Content Analysis:
Profanity/Language: 1 derogatory name.
Violence/Gore: Report of adult belting child in face.
Sex/Nudity: Non-married characters hold hands, lay heads on shoulders, embrace and kiss on both cheeks and lips; report of guys running in nothing but athletic shoes; reports of both adultery and abortion, no details; characters discuss other character's sexual orientation.
Mature Subject Matter:
Adultery, abortion, addiction, physical abuse of child, socioeconomic profiling.
Alcohol / Drug Use:
One character is continually inebriated; a few mentions of social drinking.
Reviewed By Susan