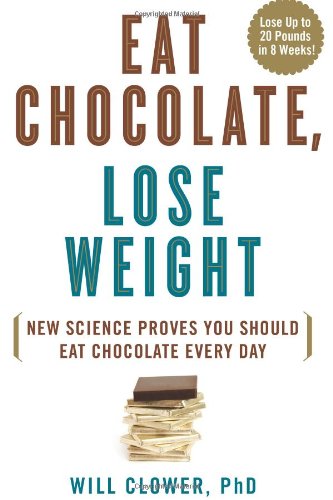 Publisher's Note:
Eat Chocolate, Lose Weight is a game-changing look at the world's most surprising (and luscious) health food: chocolate.
Based on new groundbreaking research and the amazing results of his clients, who have lost more than 100 pounds, nutritionist and neuroscientist Dr. Will Clower dispels the myth that chocolate is just a "junk food" by revealing how this succulent food contains healthy antioxidants that can actually help you lose weight. All you have to do is take the Chocolate Challenge: an 8-week plan that reveals which type of chocolate is the healthiest and exactly how you should be eating it to maximize all of its surprising health benefits, including:
Weight loss of up to 20 pounds in 8 weeks
Reduced food cravings and appetite
Prevention and reversal of diabetes
Improved dental health
Significant improvement in blood pressure
Enhanced energy levels (up to 50%!)
Increased skin moisture and UV protection
And more!
With Eat Chocolate, Lose Weight, Dr. Clower is finally bringing his incredibly successful—and delicious—plan to chocolate lovers everywhere!
Eat Chocolate, Lose Weight
by Will Clower, PhD
Overall Review:
Eat Chocolate, Lose Weight -- Honestly, how can that title be resisted? It will probably be a best seller in no time just because of the title. In many ways, this book re-hashed a lot of things that dieters already know--eat real, whole foods in smaller quantities, and cut the sugar from your diet--nothing new there. Stylistically, there was also a lot of conversational filler; the material could have been covered in a more efficient manner.
The new things the author brought to the table was re-thinking what chocolate is, learning to truly taste chocolate (and the other foods you eat), some psychology of eating, and the scientific properties of cocoa that make it good for your health. There are many endnotes documenting studies to support the material, but there seemed to be a lack of citation in cases where the author's opinion differed from common findings that have been upheld in studies. For example, the benefits of breakfast and eating early in the evening were discounted by the author without any scientific references. A wrap-up chapter synthesizing the major take-aways was missing and would have been a nice "ender".
Scattered throughout the book are profiles of individuals who have successfully achieved their weight goals following this plan. There are recipes at the conclusion of the text and a two week eating plan. Although I have not personally taken the eight week eating plan challenge (the library reclaimed my copy before I could test it) and I cannot attest one way or another to the effectiveness of Dr. Clower's recommendations, there were definitely a few suggestions that I will be incorporating into my life--one of which is slow down and taste it!
Content Analysis:
Profanity/Language: 1 mild obscenity.
Violence/Gore: None
Sex/Nudity: A couple of passing references to chocolate being better than sex; a brief paragraph about the aphrodisiac (or lack of) properties of chocolate.
Mature Subject Matter:
None
Alcohol / Drug Use:
Mention of the health benefits of red wine.
Reviewed By Cindy