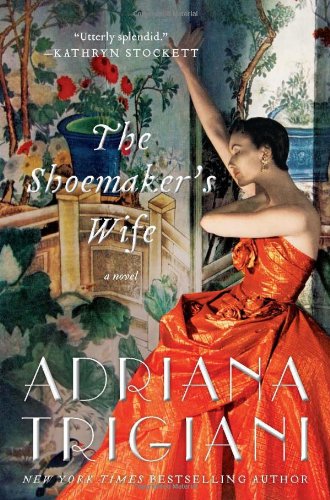 Publisher's Note:
The majestic and haunting beauty of the Italian Alps is the setting of the first meeting of Enza, a practical beauty, and Ciro, a strapping mountain boy, who meet as teenagers, despite growing up in villages just a few miles apart. At the turn of the last century, when Ciro catches the local priest in a scandal, he is banished from his village and sent to hide in America as an apprentice to a shoemaker in Little Italy. Without explanation, he leaves a bereft Enza behind. Soon, Enza's family faces disaster and she, too, is forced to go to America with her father to secure their future.
Unbeknownst to one another, they both build fledgling lives in America, Ciro masters shoemaking and Enza takes a factory job in Hoboken until fate intervenes and reunites them. But it is too late: Ciro has volunteered to serve in World War I and Enza, determined to forge a life without him, begins her impressive career as a seamstress at the Metropolitan Opera House that will sweep her into the glamorous salons of Manhattan and into the life of the international singing sensation, Enrico Caruso.
From the stately mansions of Carnegie Hill, to the cobblestone streets of Little Italy, over the perilous cliffs of northern Italy, to the white-capped lakes of northern Minnesota, these star-crossed lovers meet and separate, until, finally, the power of their love changes both of their lives forever.
Lush and evocative, told in tantalizing detail and enriched with lovable, unforgettable characters, The Shoemaker's Wife is a portrait of the times, the places and the people who defined the immigrant experience, claiming their portion of the American dream with ambition and resolve, cutting it to fit their needs like the finest Italian silk.
This riveting historical epic of love and family, war and loss, risk and destiny is the novel Adriana Trigiani was born to write, one inspired by her own family history and the love of tradition that has propelled her body of bestselling novels to international acclaim. Like Lucia, Lucia, The Shoemaker's Wife defines an era with clarity and splendor, with operatic scope and a vivid cast of characters who will live on in the imaginations of readers for years to come.
The Shoemaker's Wife
by Adriana Trigiani
Overall Review:
Pick up a copy of The Shoemaker's Wife and be swept away on an incredible journey of love, life and loss. This epic saga is based on the romance of the author's grandparents, making each page a little sweeter. While this historical fiction covers many time periods (The Progressive Era, World War I, and II) the story glides along effortlessly.
Trigiani writes with breathtaking splendor. Main characters Enza and Ciro are strong and realistic, with real depth and awareness. I felt an instant connection to Enza and teared up when she endured countless hardships and at last found her long awaited happiness. The messages of sacrifice, patriotism, home and family will resonate with readers. The Shoemaker's Wife is a beautiful story that needs to be shared with friends and family!
Content Analysis:
Profanity/Language: 2 religious exclamations, 3 mild obscenities, 1 derogatory name.
Violence/Gore: Report of violences during World War I and when a character's father is killed in an accident; a male assaults a female character; two brothers fistfight.
Sex/Nudity: Numerous incidents of kissing and romance; a few sexual references, several reported/implied incidents of sexual activity and sexual activity without explicit detail between married adults.
Mature Subject Matter:
Socioeconomic conflict, war, death of a family member, terminal illness
Alcohol / Drug Use:
Characters frequently smoke and drink; a main character gets drunk on one occasion
Reviewed By Rachel