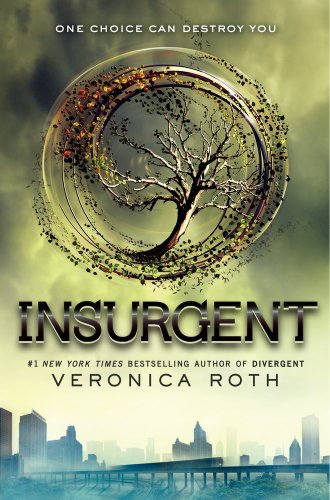 Publisher's Note:
One choice can transform you—or it can destroy you. But every choice has consequences, and as unrest surges in the factions all around her, Tris Prior must continue trying to save those she loves—and herself—while grappling with haunting questions of grief and forgiveness, identity and loyalty, politics and love.
Tris's initiation day should have been marked by celebration and victory with her chosen faction; instead, the day ended with unspeakable horrors. War now looms as conflict between the factions and their ideologies grows. And in times of war, sides must be chosen, secrets will emerge, and choices will become even more irrevocable—and even more powerful. Transformed by her own decisions but also by haunting grief and guilt, radical new discoveries, and shifting relationships, Tris must fully embrace her Divergence, even if she does not know what she may lose by doing so.
New York Times bestselling author Veronica Roth's much-anticipated second book of the dystopian Divergent series is another intoxicating thrill ride of a story, rich with hallmark twists, heartbreaks, romance, and powerful insights about human nature.
Insurgent
by Veronica Roth
Overall Review:
Tenacious Tris and gang continue their high-stakes venture in Veronica Roth's New York Times Best Seller Insurgent. This second book in the dystopian Divergent trilogy begins minutes after the first book ends. Danger and violence increase as Tris tries to navigate the emotional roller coaster left from the war's first wave of destruction. Fans who crave more adventure and romance will be justly satisfied with Roth's superb storytelling and dynamic plot. Juicy and suspenseful to the very end, Insurgent is a fantastic wild ride.
Content Analysis:
Profanity/Language: 14 religious exclamations, 2 mild obscenities, 2 derogatory names
Violence/Gore: A few verbal threats; secondhand reports of violence recapping injuries and murders from the previous book; fantasy violence including simulations of character death; numerous incidents of violence including beatings with a belt, fistfights, gunfights and gunshot wounds; several non-detailed scenes of violent death by gunfire, stabbing, and shooting, in addition to characters seeing the bodies of those who were murdered; details of blood and gore during a stabbing, when a character yanks a tracker out of her arm and when characters break out of captivity; one brief and two extended scenes of intense violence which include warfare, shootings and stabbings.
Sex/Nudity: Numerous accounts of kissing and romance; sexual references including mention of a character's affair and "doing her"; a few instances of touching and caressing
Mature Subject Matter:
Death of a family member, war, murder, social conflict, torture
Alcohol / Drug Use:
***
Reviewed By Rachel